Child Care and Community Development
In the rural Santa region of Cameroon, subsistence farming is the main activity for many people to support their families. However, there is a need for agricultural training for young people, and demand for job training to give new ways to earn an income. There are also high numbers of orphans and vulnerable children or households headed by children or grandparents largely due to the effects of HIV/AIDS. Many of these children do not go to school, and their families cannot afford healthcare, and lack essential supplies such as clothing and bedding.
Our partner organisation working in Cameroon helps to provide vocational training for young people, while seeking to provide orphans and other vulnerable children with support and assistance. Advocacy of child rights is an important part of their work. They have asked Crossroads for a shipment to help them expand their projects.
Community participation is an essential aspect of our partner's approach to community development. For example, people are encouraged to participate in savings and loan projects for the economic security and sustainability of their local community.
Shipment includes:
Clothing and bedding to be given to orphans and needy children
Computers for schools and training programmes
Furniture and equipment for office work
Household items, such as cookers, for needy families
Job creation tools such as sewing machines
School furniture and equipment
---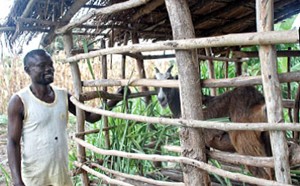 HIV-positive patients and their families need good nutrition in order to maintain their health (ARVs) because they may cause adverse side effects when taken without food.. Some clients struggle to commit to taking antiretroviral drugs.
Therefore our partner's HIV project provided supplemental nutritional support to clients during the first year of the project. The project also provided food to malnourished and bed-ridden clients. As this support was not sustainable for the long term, the project introduced agriculture training and material support to promote household food security. The beneficiaries' clients learned modern farming methods and were provided with seeds, cuttings, and animals, such as goats and chickens.
---
The shipment will provide HIV/AIDS affected families with essential support in areas like health education and income generation as mentioned above.