Education and community development
Far from the bustling capital city, many villages in Zambia's countryside are struggling to catch up to the nation's growth. In this shipment's target area, people earn their living through subsistence farming, growing maize, pineapples, cassava, bananas, and beans, but only enough to feed their family. Finding extra money for more nutritious food, medicine for a sick child or further education is impossible for many.
"Many children walk almost naked, because they have no clothes, even as areas are growing, children are leaving school, only to end up not doing anything." wrote our partner NGO.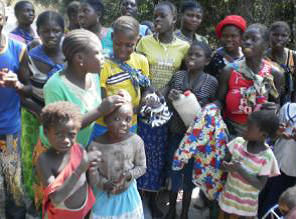 Crossroads' partners are helping their community of 25,000 move out of this hand-to-mouth existence by teaching better farming methods, new business skills,   training young people in computers, supporting village schools and equipping health clinics. They have asked us for a shipment of goods that will boost and grow their education and community development programmes.
Shipment includes:
Clothing for orphans, elderly and vulnerable families
School stationery and books for community schools
Medical supplies and equipment for health clinics
School furniture to equip poor village schools


---

Carlos was neglected by his family because of his disability. He used to walk around on his knees, often getting cuts from broken glass, and couldn't play with other children. Crossroads' partner worked with his family to help them appreciate and help Carlos. Staff now give him a regular food and financial allowance that lifts the family's burden, and as well as clothes, they found crutches for Carlos to be able to walk upright for the first time. Today, he can even play football with the neighborhood children!

This shipment will include clothes, school equipment, household items and other goods that will directly benefit vulnerable children like Carlos.

---

Communities here are close-knit, but many struggle with a lack of basic daily needs. "Some elderly are starving from a lack of food, or only eating mangoes," wrote staff.

In this community in Eastern Angola, on Zambia's border, there are so few formal schools that some children have classes under a mango tree (above). During the rainy season, they simply can't go to school. Others are in a one-room school trying to cater for 200 students. "There are only three desks for 40 pupils at a time and children write on their knees. Most of them sit  on logs," writes a staff member.Staying in school, and breaking out of poverty,  is difficult with all these odds stacked against them, but Crossroads' partner is helping children in  Zambia and in Eastern Angola, just across the border, gain access to better educational opportunities. Once those children graduate, they're then helping them train in useful skills like using computers, beekeeping and fish farming.

This shipment will include goods like school desks and chairs to equip very under-resourced rural schools.