Community development
Most of Cameroon's poor live in rural areas. While poverty is slowly decreasing in the cities, people in villages and small towns are seeing an increase in poverty. The people hardest hit are those most vulnerable, like children with disabilities, widows, and unemployed youth who find it hard to get a job outside subsistence agriculture.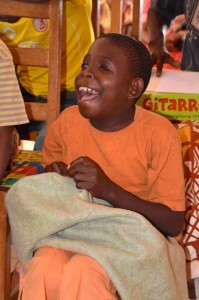 Crossroads' shipment went to a part of Cameroon that had an industrial boom around the 1960s, but that industry has moved on, and infrastructure is crumbling, warehouse buildings lying empty. Social services and faciltiies are very underresourced, and most people still rely on agriculture to survive. According to our partners who received the shipment, "abject poverty and destitution is the order of the day. Street children, orphans and vulnerable children abound."
When everyone is so poor, even with family support, children with serious disabilities rarely have the chance to go to school. Yet one of the schools served by this shipment offers innovative schemes like testing for children with dyslexia, and special glasses that help them learn – a first in the region – and vegetable cultivation for pregnant women, to help prevent some of disabilities that can form in babies from malnutrition in the womb.
Crossroads' shipment included medical goods, tools for vocational training, educational supplies, furniture and much more that are investing for the future of this challenged region.