Lewis (below) felt his life spiral out of control when Hong Kong's SARS crisis hit in 2003. Like thousands of others around the city, Lewis lost his job and in a shaky market, had no idea how he'd find another one.
He had been working for a golf course at the time, with the hospitality industry hard-hit by the economic woes brought on by SARS.
Lewis took solace in drugs. At first it was marijuana, and then harder drugs. Soon, he was addicted to ketamine and relying on it to lift his spirits just enough to cope with life.
The next decade saw a roller coaster of addiction, recovery and relapse for Lewis. Even when he managed to find another job in the real estate industry, he remained hooked. "My family didn't know what to do," he said, "but they were always supportive."
It was the thought of hurting his family and friends so deeply that finally flicked the switch for Lewis. In mid-2013, he knew it was time to get help.
Thankfully for Lewis and hundreds of addicts like him, there are groups in Hong Kong waiting to support those who want to get clean. One of these, a rehab complex in the New Territories, was where Lewis found his new home. For several months he has lived there, finding support, mentorship and recovery. It's a long road, but Lewis is confident that his drug days are over.
Crossroads supports several drug rehab centres in Hong Kong, helping them build their capacity so that they can welcome more clients, and give them better care.
In recent months we gave one of our largest ever donations of goods to SARDA, an agency with branches across Hong Kong, who desperately needed to upgrade their facilities. "We need almost everything!" they told us before the donation.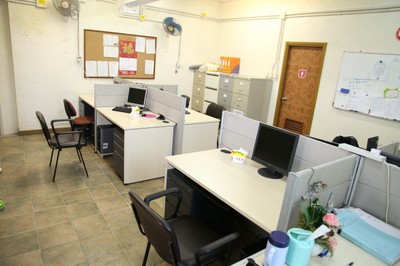 Furniture from Crossroads now equips their community homes for recovering addicts, computers and desks have set up a new training scheme (left) to teach IT skills to their clients, and much more.
"It can be hard to find funding for drug addicts," said one of the centre staff. "People think they've brought it on themselves and don't deserve help. But we believe everyone deserves a second chance."
"Mr K" would agree. A former drug addict himself, he now works for SARDA, managing one of the group homes for recovering addicts.
Crossroads loves being a part of the solution to their dilemma, using the abundant resources donated to us weekly to give that second chance to people desperate to turn their lives around.
Can we help your charity?
If your Hong Kong charity has a need for goods, Crossroads is here to help! Click here to apply.