SHIPMENT FEEDBACK
In the mountainous region outside Casablanca lies the village of Zaouit Irs. There are just two off-road tracks that connect Zaouit Irs and its 250 inhabitants to the rest of the world, and these are often thrown into disrepair following bad weather or heavy rain. The villagers have faced a number of difficulties in recent years, and over half now have to make the arduous journey to Casablanca every day just to find a chance of employment. A lack of development and education opportunities in the village has also meant children as young as 12 are leaving school to join their relatives in pursuing work in the city.
The people of Zaouit Irs are aware of these challenges, and they have been proactive in addressing them. In 2011 the villagers formed an association to develop their home, to protect their local environment, and to celebrate their local culture and language. This association, who are now our partners in Morocco, have big plans for strengthening their community. The shipment that they received from Crossroads is helping to see some of those plans become reality.
"We felt really happy and appreciative to receive this generous shipment from the other side of the world. It made us feel so lucky, and deeply touched by the human spirit" – Association Head

(Above 1st pic) Members of the village association come together to unload and sort the shipment after its arrival in Casablanca. (Above 2nd pic) Packed and ready to go, the first delivery of goods prepares to set off for Zaouit Irs.
One of the association's next big goals is to expand the village school with a new classroom, allowing more students to join lessons and encouraging the current students to pursue their education further. There are also efforts to develop the local community facilities, to allow the better celebration of festivals and cultural events.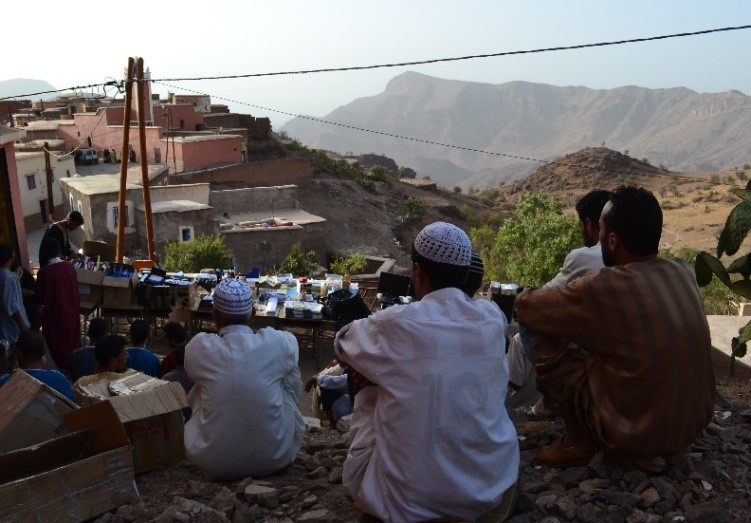 Members of the community gather to see new educational materials distributed to the village school.
The shipment that we sent has been instrumental in seeing these plans carried out:
New classroom furniture has now replaced the worn out desks, and will soon fill the second classroom as well.

Audio equipment has provided the means to enrich village events and celebrations.

Computers have allowed the introduction of ICT classes.

Stationery and learning materials have saved local families money they could not have afforded to spare.
If purchased locally the goods received in this shipment would have cost the village US$8000, an almost impossible amount for this small community. Now however, they have a solid foundation on which they can continue to build their strength and develop their community.
---
FURTHER FEEDBACK PHOTOS:
"Now, our village school is an example of a great educational environment, we have even been asked by other village associations about the process and how we benefited from this generous shipment"



Reference No. : S3416