When the wounding is done, and you are left alone and bleeding, where can you turn in a war torn environment?
With your country impoverished by years of fighting, it probably won't have the resources to help you. With the conflict over, the world has turned its back on your country, so little help may be forthcoming from international aid. With your family and friends dead or destitute, you may have few, or no, individuals to turn to. What options, then, are left? 2009 saw the publication of a book by a young war victim in Sierra Leone whose story has stunned readers and earned multiple awards.
Mariatu Kamara, at 12 years old, lived securely at home with her family. Although there was talk of war elsewhere in the country, her family had no indication that it was coming near them. So it was with confidence that she set out on a journey to a neighbouring village. Tragically, though, she was never to complete that journey.
On that path, she found herself confronted by rebel soldiers, some close to her own age, who were used to their powerful weapons and very adept at torture. For them, it was probably no more than another moment in a day as they cut off both her hands. For her, life was changed forever.
Mariatu, bleeding but alive, set out to find a shelter away from the fighting. As it happened she encountered a man on her journey who, out of kindness, offered her a mango. That simple act became a defining moment for her. The taste of the mango brought back to her the beauty of the life she had loved and lost, and motivated her to find a way to live again.
With blood streaming from her arms, she insisted on holding the mango herself: proof of her determination to work past the loss that had left her disabled. She would later call her story, 'The Bite of the Mango.'
The book recounts the way Mariatu reached a refugee camp, collected survival money by begging in the streets of Freetown, and eventually, found her way to Canada. She is now an international speaker on behalf of people recovering from war.
There are few voices for those in post conflict situations and the agony they find forging a new life. Mercy Ships, a UK NGO that is part of the Global Hand network, is an exception. It provides free medical healthcare as part of its sustainable development support for the poorest nations of the world, through the use of hospital ships.
Mercy Ships has established a land-based centre in Freetown, the nation's capital. The conflict left some 50,000 dead, and thousands more maimed or mutilated. The New Steps Centre in Freetown provides physical therapy and the creation of assistive devices as well as health care services, personal and community development projects.
So, when Mercy Ships saw an offer of crutches on Global Hand, they responded enthusiastically. These were, as it turns out, not just any crutches. Cool Crutches is a UK company that was set up by Clare Braddell when her daughter broke her back and was forced to use those supplied by the National Health Service. Their website promises coloured crutches that are funky and comfortable, helping boost people's morale as well as supporting their mobility. The organisation sent out the crutches to Mercy Ships in pre-paid heavy-duty polythene bags.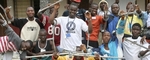 As a Mercy Ships spokesman put it: "It's an easy way to make a big difference." They subsequently fitted members of the Single Leg Amputee Sports Club in Freetown at the New Steps Centre with the 'cool crutches' (photo, left). Many members of the club lost limbs in the war, but rather than dwell on the past, are using this opportunity to bring hope and inspiration to their country through sport.
Clare was grateful for the opportunity to partner with Mercy Ships. "Global Hand got us together", she said. "Although I had heard of Mercy Ships, I didn't click that they would be the perfect partnership for us. Mercy Ships need hundreds of pairs of crutches for war zones around the world, particularly Sierra Leone at the moment. If buyers of Cool Crutches could be bothered to go to the post office, when they are better, they might feel good about themselves, particularly if Cool Crutches pays the postage, and has labelled the bag, so that all they have to do is seal it!"
People of Mariatu's ilk are an inspiration. Her very life is testimony to the fact that hope, even in the most wretched of times, can yet be found. At Global Hand, we consider the very least we can do is resource those willing to battle the odds and start over.