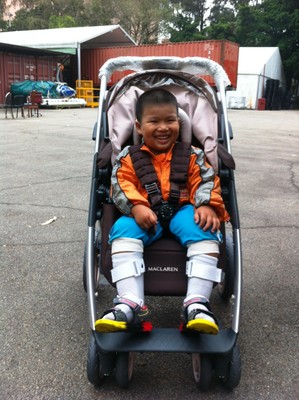 Chi Kin should be running and climbing like any other energetic preschooler but at 3 years old, the little boy still can't walk.
Chi Kin suffers from a genetic condition that means his legs are too weak to take more than a few steps at a time.
He's receiving therapy that will help his legs grow strong, but in the meantime, Chi Kin rides in a stroller to get around.
With medical costs mounting, though, his father started to worry when their old stroller began to wear out.
"It was almost broken," he said. They couldn't afford to buy a bigger, stronger stroller that would help Chi Kin.
We had the joy of meeting Chi Kin and his Dad at Crossroads when they visited to collect some goods to help with family life. One of the things they hoped for was a stroller to replace the broken one.
Little did his father know, stroller company Maclaren had recently donated to Crossroads a large quantity of their high-end strollers, still in their packaging! Our staff unpacked one of the larger models, and the happy father started to put it together straight away.
"I didn't expect we would get a brand new stroller!" he said. He expressed great gratitude to Maclaren for the donation.
As for Chi Kin, you couldn't wipe the smile from this little guy's face! We know he is as thrilled with his new 'wheels' as his father is.
Maclaren's gorgeous new strollers are bringing joy to many more families throughout Hong Kong as each one is wheeled out of our gates.
Some of the strollers have been gratefully accepted by local NGO Pathfinders, who serve migrant families in need.
'Mary'*, a young Indonesian mother, single and in difficult circumstances, was one of the grateful beneficiaries (baby pictured below right).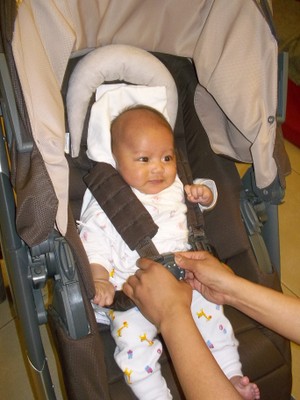 "It really helps me from carrying the baby all the time," she said. "My arms and shoulders were getting sore before but now with the new stroller.. it makes it more comfortable and convenient for me to go to different appointments."

"We truly appreciate the donation which enables us to provide better services to the at risk migrant mothers and children," said a Pathfinders staff member.
Every week, generous companies like Maclaren contact us with offers of high-quality goods that we redistribute to change lives.
Could your company or organisation partner with us in this way?
We'd love to hear from you! Email donategoods@crossroads.org.hk
* Name changed