Care for young children at risk
When Florence, of Uganda, used to travel to school as a young girl, her heart would break to see tiny children left alone on the streets, or carried around with their mother while she worked. "It kept me wondering if it was a kind of imprisonment," Florence reflects, "robbing children of their right to play."
Now many years later, Florence has realised her dream of opening a day care for children like the ones she saw on the streets. Instead of wandering on their own or being locked up at home while their mothers worked long, difficult hours, these little ones now have the chance to play and learn in a safe and stimulating environment.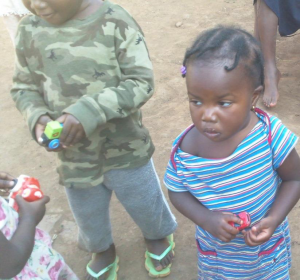 Sadly, though, she realized that once children were graduating day care at 3, she would too often see them back on the streets idle during the day while parents were at work. It was only once her NGO received Crossroads' shipment, filled with school materials, toys, furniture and other things, that Florence could successfully open the next stage of their work, a preschool for 3-5 year olds.
Crossroads' goods are now benefitting the day care, preschool, nearby youth centres, a health centre and the impoverished families of school children.
"Now we have expanded to a Kindergarten section to help 3-5 year olds because we have all the materials to run school classes. All this was prompted by your generous donations."
Florence commented that the quality of the furniture in the shipment, such as the beds, chairs and table, was superior to anything she could source locally, and that many of the toys and school materials aren't available in Uganda at all. She estimates that the furniture, school supplies and uniforms alone saved the organisation US$17,000 out of their budget.
There is no doubt that this shipment has made an impact on the lives of young children in this part of Uganda. We are so grateful to all involved in making it possible.