It was the middle of the night when Muhammad heard the terrifying sound of rebels at the door. "They said, 'Join us or die'," he remembers.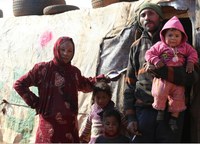 The scars still fresh on Muhammad's shoulder bear witness to the savage beating that came next. The rebels destroyed his home and Muhammad (right) knew there was nothing but fear and death left if his family stayed in their homeland.
Muhammad, his pregnant wife and his three young children joined the ranks of Syria's 2.5 million displaced people. They escaped in the night across the border to Lebanon.
"Two children froze to death today." – Crossroads' partner, Lebanon, on the harsh winter faced by Syrian refugees.
The family found their way to one of Lebanon's informal tented settlements, where Crossroads' David Begbie met him and heard his story. "A lot of these people came with some money," David said, "but they've been living off their savings and most of their money is now gone."
Most bring skills and ingenuity with them across the border, but aren't permitted to take formal jobs in the community.  Muhammad himself, desperate to find something to bring in a little income, now collects plastic from around the muddy streets in his makeshift cart (below) to sell, but the family has no idea how long they'll be living in this bare, cold, temporary home.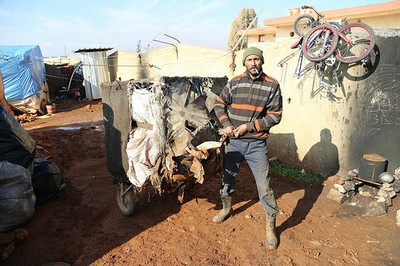 It's hard to remember, looking at images of these 'tent cities' stretching as far as the eye can see, that each tent houses a family with its own specific and individual stories of terror, distress and loss like Muhammad's.
When Harrow International School Hong Kong asked Crossroads how they could help Syrian refugees, we seized the chance to partner. Harrow gave a generous donation of funding and when we looked to our different partners in the region, we found one who was planning a campaign to give warm winter clothes and toys to 5,000 children in the freezing refugee camps but were looking for funding!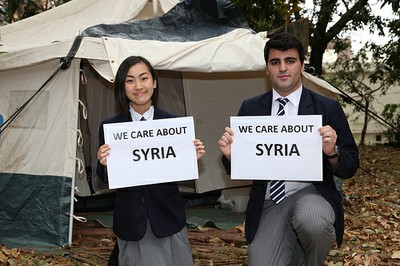 Harrow students rallied for the cause, sending messages of support to Syrian refugee families.
Fast forward to the end of December, and distribution of 'winterization' packs (below) to precious refugee children had begun.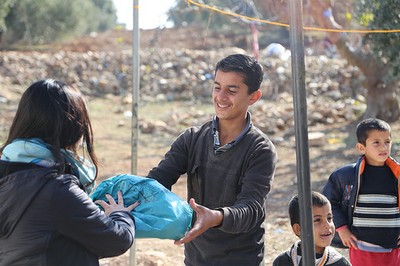 "I wish you could have been there to see the distribution!" said one of our contacts. "It was like drawing a smile on the children's faces."
Younger children received not just warm clothes but a soft plush toy in the distribution. For some of them it's the only toy they now own.
"We want them to know they're not forgotten," said our partners.
Click here to see Crossroads' photo essay from the camps, with more stories from families and the people helping them.