Urban poverty tends to repeat itself with unremitting consistency. It's not just about a lack of money. It's too often, also, about alcoholism, drugs, social breakdown, ill health, violence, homicide or suicide. Two decades ago, in Hyderabad, India, a young woman agonised over the poverty in the nearby slum community and asked herself what she could do. Education, she decided, was the most strategic way to break through the suffering.
She began a modest school which, with no resources, she held under a tree. The children loved it and attended in droves until, eventually, the tree was no longer enough. She then relocated to a building where she could accommodate more students. Conditions were less than ideal, but, such was the eagerness of the kids to learn that they continued increasing in number. They studied well and achieved, with some ultimately becoming lawyers, accountants and professionals in other fields. Nonetheless, facilities are insufficient. School assembly takes place in the street, with the roads blocked off either end, (picture) as they have no building sizeable enough.
With donor support, they have found another building which they have been able to purchase while Crossroads has task of furnishing it. We sent a wide range of provision, from computers to furniture, text books to clothing. A Western sponsor who made a follow up visit wrote to us, 'I am just back from a visit to Hyderabad. I was amazed at all you have sent them. As I walked around the school, I saw the desks and chairs, kitchen equipment for the orphans, cupboards and the soft toys as well as many other items, including uniforms.'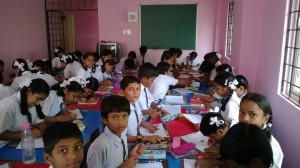 Crossroads, as an organisation, is not able to make large capital injections of a financial kind. What we can do, however, is make a capital injection of goods: one which, we trust, can multiply itself over in the lives of many who use it in years to come.