"But what can I do at school to help others care?" We're often asked this by students who undertake our x-periences, come out with deepened empathy and want to to see it translated into action at their schools.  It's a conversation we love to have. Meena, in Beijing, is one who called, this year and spoke with our Global X-perience director on this very point.  She came up with a remarkable idea. She would hold an 'Empathy Film Festival' at school.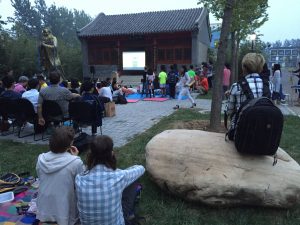 It was difficult at  first, though, and Meena quickly discovered that the path to world change isn't always easy.
"There were so many times I thought my idea was dead — that maybe I should just give up," she told us. "But the inspiration and the ideas we shared were too good to just let go. Slowly I was able to find other students and teachers who believed it was a good idea too."
The end result of her perseverance? A communal 24 hour fast, to build empathy for the hungry, followed by an outdoor film festival showing films dealing with issues of world need, and US$2,000 raised to help the poor. We're so proud of Meena for fanning the spark of an idea into flame, and passing that flame of compassion on to others!