SHIPMENT FEEDBACK
An estimated 3.5 million people live with a disability in Tanzania. Many of those millions, particularly those below the poverty line, face stigmatisation and are denied equal opportunities. The literacy rate in Tanzania is currently 75%, but for people with disabilities that figure drops to just 52%. Access to education and job opportunities is essential to break out of the poverty cycle. In a nation still struggling towards economic security for all its citizens, those with disabilities are often among the poorest and most marginalised in society.
The shipment which arrived from Crossroads contained goods that gave a real boost to our partners' project helping people with disabilities gain skills, access education and understand their rights. Their director told us:
"Before the shipment we had a lot of problems, ranging from lack of office tools and stationery, clothes for our members and their children, home materials like beds for some of the disabled, shortage of chairs, tables, school stationeries, and many more."
The arrival of chairs and other furniture may not seem like a big event, but for our partners, it has meant a great deal.  They no longer have to hire chairs and a table when holding meetings, saving US$ 330 a year.  The school tables are being used for short computer courses, also saving money and being a practical help.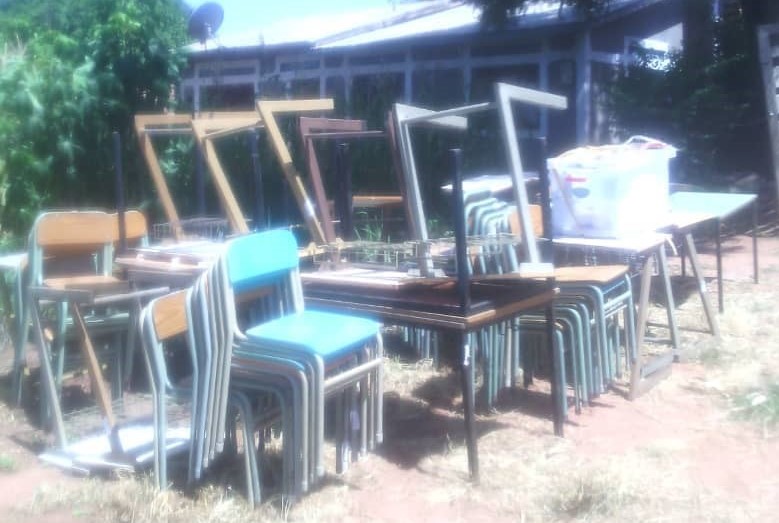 ---
BENEFITS TO THE TAILORING GROUP
The ladies told us:
"Crossroads has brought great change for tailoring group.  We have been provided with sewing materials and lace materials which have helped us to change our mind on special designs of clothing. Customers are wondering how has this change happened?"

The project works hard at training disabled people in skills that empower them to earn a living. 
Office equipment and stationery has meant a saving of US$780, which is very significant for a project of this size.
"With the supply from Crossroads we are assured that we can save the amount up to not less than 30 months without buying some of the office supply, such as printing, folders, staplers and punching machines, office staple pins, paper clips and other office use materials"

For the community's children, an exciting part of the shipment was large amount of school stationery supplies, like coloured pens and pencils. Eveline was one of those grateful for a donation for her family:
"Through it my family of five children have been given clothes and other materials from the shipment which we have told that comes from Crossroads.  It has been a great challenge to find clothes and school materials for them, but now I have somewhere to start."
Reference No. S4031