No one has space for excess goods in Hong Kong. So when people choose to donate them, they normally need to do so quickly.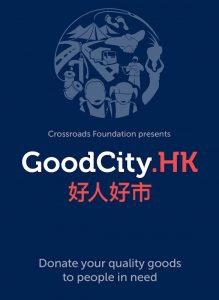 Crossroads' IT team has developed an app for web and mobile phone which targets this problem. Called GoodCity, it's a way to offer goods in Hong Kong quickly and easily from your phone or computer. You upload an image of the goods and one of our 'micro-volunteers' quickly checks it and books a van to collect and deliver the goods to Crossroads.
"GoodCity has literally reduced our turnaround time tenfold," said Matt Gow, Crossroads' Director of Strategy and the brains behind GoodCity. "We can now approve and accept goods with GoodCity 90% faster than through traditional donation channels."
Since its soft-launch in 2016, goods donated through GoodCity have been helping individuals and NGOs in need all over Hong Kong, from equipping a home for women and girls at risk, to helping a recipient with health problems, dependent on social welfare, with furniture he couldn't afford to buy.
We're excited to be offering Hong Kong this new way to help others, and we're delighted that generous partners have caught the vision too! GoodCity has been honoured to receive grants for development from FIL Foundation, Operation Santa Claus and the HK Jockey Club, which have breathed the project into being, and funded its ongoing development.
Visit www.goodcity.hk to download the app now!

---
GOODCITY IN 2017
Value of goods donated through GoodCity: HK$2.08 million
Volume of goods saved from landfill through GoodCity: 21.5 tonnes
Beneficiaries: 400 Hong Kong charities and clients; 100 Social Welfare Department service centres
Average time from submitting offer to review by volunteers: 66 minutes
Number of micro-volunteers* reviewing and processing offers: 19
---
THE CHEN FAMILY: A GOOD CITY STORY
The Chen family has seen one heartbreak after another. In 2007, Mr Chen died, leaving his wife Chen battling chronic thyroid disease and mental illness. Her two adult daughters had their own struggles: the younger was in prison for drug offences, and the elder was unemployed and living with Mrs Chen. The two women were thankful when they were offered an Internal Housing Transfer flat from the Housing Department but they despaired as to how they could afford to furnish it with even the few things they needed. Mrs Chen booked an appointment with us.
In another part of Hong Kong, May was preparing to move, and had goods to give away. She didn't want them to go to waste, so she turned to Crossroads' Good City app to donate them. After uploading pictures, and a few words back and forth with our volunteers through the app, May had the goods delivered to Crossroads in mid-July 2016. One of the items in her donation was a Siemens washing machine, still in excellent condition.
When Mrs Chen came to Crossroads just three days later with a 'wishlist' of things needed for their new flat, a washing machine was on the list. It was May's very machine that Mrs Chen took home, along with other goods from Crossroads like chairs, table, cabinets and a wardrobe. We contacted May to let her know her washing machine had found a home, and she was touched to know it was already helping. "My husband and I feel sad for this mother and her daughters," she said. "I'm so glad to know that our humble donations could help a family in need."
---
HOW IT WORKS:

*By the way, are you wondering what micro-volunteers are? These are people who do no volunteer on our premises, but help remotely with 'micro' availability for just this purpose.  Interested? We'd love to hear from you and can tell you more about remote volunteering opportunities.