It may be the last thing on our minds when taking a sweet bite of chocolate, but it's the bitter truth: child slavery still plagues the cocoa industry, and the number of slaves is increasing as the world's consumption of chocolate is increasing. These children are handling dangerous agricultural chemicals, wielding sharp tools, carrying heavy loads, and enduring abuse from their captors.
"The beatings were a part of my life," said one former child labourer. "When you didn't hurry, you were beaten."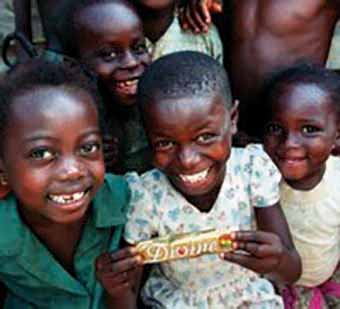 Fair trade group, Divine Chocolate, demonstrates that a love for chocolate doesn't have to cost innocent lives. They are the only chocolate company worldwide which is 100% fair trade and owned by cocoa producers in a Ghanain cooperative called Kuapa Kokoo. Last year, they generated an astonishing GBP 282,000 which was designated to help build schools, along with other projects that are lifting people out of poverty.
Our Global Handicrafts marketplace has been selling Divine products proudly since our very beginnings.
In 2017-18, we sold 2,339 bars of chocolate, and served chocolate drinks in our cafe made with Divine cocoa, loving that our customers can indulge with a clear conscience.