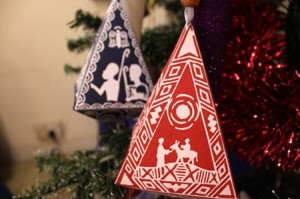 The Sudanese Civil War killed more civilians than any other conflict since World War 2. Two million Sudanese people died – an incredible 20% of the population – from war or the disease and famine it caused.
For those Sudanese who managed to escape the war, home in a new nation turned out to be almost as difficult as what they left behind. Life in Sudan meant torture, forced starvation, landmines, death of loved ones and losing their homes. But life as a refugee in a new country can mean discrimination, violent racial attacks, unemployment and poverty. The tens of thousands of Sudanese refugees that settled in nearby Egypt have found it extremely difficult to get a job, and care for their families. Simply to make enough to eat, they accept work in illegal, unsafe conditions, or with dismally low pay.
Tukul Crafts, in Cairo, Egypt saw this need, and wanted to give refugees the opportunity to use their existing skills to make a fair and sustainable living for themselves. The clothes and household items that Tukul artisans produce are bright and hopeful: a reflection of the hearts of the people who make them. Their screenprinted designs are intentionally rustic and traditional, the colours bold, and the textiles sturdy and strong.
From tea towels to travel bags, from aprons to coin purses, Tukul offers a beautiful range of products that Global Handicrafts is proud and pleased to be able to offer in our online store, and in a fuller range, instore at our shop.