Valerie will never forget the day she helped one Hong Kong widow find a piano for her 6-year-old son. "She was crying because at first we couldn't find her a piano," said Valerie, a local university student. When, at last, Valerie was able to tell the woman that we did, indeed, have a piano for her, the tears turned to a delighted smile, and Valerie knew the work she was doing was worthwhile.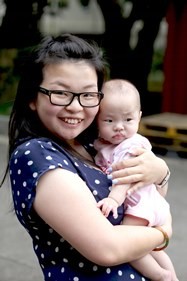 Valerie (pictured right), along with 56 other bright, motivated young people from around Hong Kong, has just finished a summer internship with Crossroads. She was placed in the Hong Kong distribution department, working closely for six extraordinary weeks with some of Hong Kong's most vulnerable families, helping them select goods they need from Crossroads' warehouse.
At Crossroads, we look forward annually to 'intern season' with eager anticipation! It's an injection of energy and labour like no other time of year. In 2013, our superb summer interns together invested an incredible 10,000 hours, working in diverse roles, from helping run Global X-perience simulations, to processing donated computers for redistribution.
Jessica (below), a Chinese Studies student, spent her internship working in Crossroads' Silk Road Cafe, where she served up fair trade coffees and snacks made by a Hong Kong social enterprise.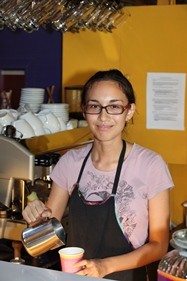 "I was very impressed by the pastries," she says. "They are made by iBakery, a company who employs disabled Hong Kong people so that they can earn a living by baking. Their pastries are very tasty! I like the brownies."
"Before working here," reflects Jessica, "I always thought if I wanted to be part of helping the world, I would need to go abroad, to third world countries, and be in the slums and work with them, but I realised I can also do it in Hong Kong."
Jason (below, right) worked in Crossroads' incoming goods department during his internship, where he answered calls and emails from the hundreds of people in Hong Kong interested in donating goods each month.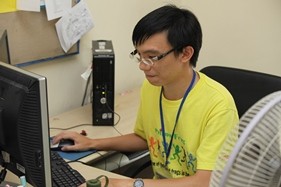 "The objectives of Crossroads inspired me," Jason says, "to help those who are in need, who are poor and want to improve their lives."
The learning curve was steep for Jason, particularly when it came to communicating in English, and dealing with busy donors in a friendly, professional way. He's about to start a Masters Degree in Sociology and was eager to develop his skillbase. "I've had to polish my communications skills and learn ways to speak strategically," he said. "And I've learnt how to work as a team with my colleagues."
Like so many of Crossroads' interns, Jason could have chosen to spend his summer internship with a bank or other large corporation, but instead, he chose to give his time to Crossroads and a world in need – for which we are unceasingly grateful!
"I think the experience here is unique," says Jason. "I really wanted to try something that was special, that could help people."
Interested in an internship at Crossroads? We accept intern applications each summer and sometimes at other times of year. We'd love to hear from you! For more information, click here.