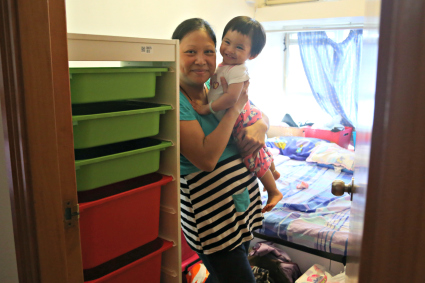 "Light Home is possibly the turning point of my life," says Mrs Lee, a client of Crossroads' partner Light Be. The social enterprise organisation arranges affordable housing, or 'Light Homes', by connecting Hong Kong landlords with underprivileged families. But it can take more than four walls and a roof to feel like home. Many families can't afford the upfront costs to furnish their apartments with all the furniture and household goods they need. Crossroads has been privileged to partner with Light Be by supplying some of these items for their clients.
"Every month we go to Crossroads and look for furniture that will fit the needs of the families we serve," says Ricky of Light Be. "If it's an empty apartment, you won't feel at home. This helps make the overall experience of housing complete. It might be the first time in two years that someone has had a table of their own."
Crossroads loves working with Light Be, and the feeling seems to be mutual! "I think Crossroads provides the biggest selection of second-hand furniture in Hong Kong," says Ricky. "We have a common mission, in terms of optimising resources in this city. It's like other NGOs we work with. We fill each other's gaps."
Donate goods to help people in need
Crossroads relies on donations of goods to be able to help families in Hong Kong, and internationally. If you've got good quality items to give, we want to hear from you! Visit our Donate Goods page.