SHIPMENT FEEDBACK
Papua New Guinea is a nation of stark contrasts. Situated in the tropical southwestern Pacific, it's one of the world's most culturally diverse countries, and rich in natural resources, but violence and brutality are major social issues. The nation's capital, Port Moresby, ranks among the world's five 'least liveable' cities, due to gang violence, murder and rape. Thousands of small agricultural communities live in remote areas where it's difficult to access everyday goods let alone healthcare or emergency services.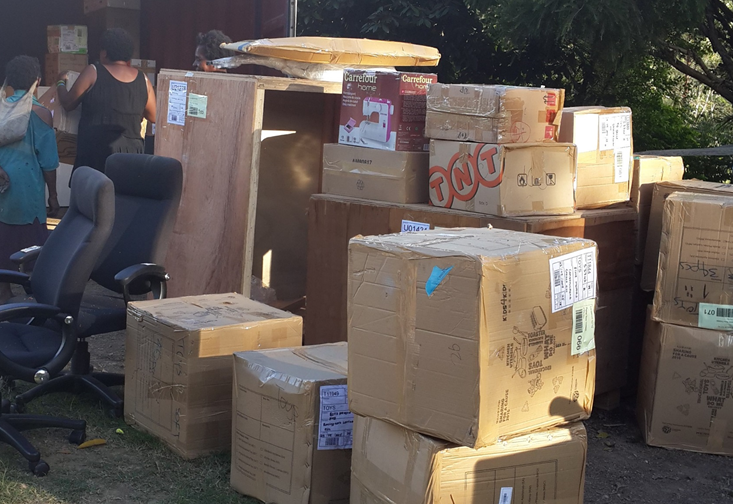 When Crossroads shipped to Papua New Guinea, it was not without challenges, including a serious earthquake that hit the highlands in 2018. Thanks to the hard work of our partners, though, the shipment was safely delivered to two secondary schools in remote communities.
The shipment included computers, school furniture and books for school libraries, all of which created a huge impact on the two school campuses. "The project was inspiring!" wrote staff. "The primary aim was to establish our first computer laboratory and school library." They used the goods to create a brand new information centre, where students can now learn IT skills and connect to the wider world.
"The project impacted positively on the secondary school students, and boosted their overall morale, spirits, excitement, aspirations, dreams and hopes!" – NGO staff

(Above) The laptops, TV screens and other computer hardware were gratefully received, helping set up the school's first computer lab. 40 cartons of books filled the new library. Chairs and other furniture saved the schools US$1500. The shipment also contained bicycles, mattresses, shoes, toys and backpacks which were distributed to the students.
The multiplier effect of the donation has been significant.  They estimate that more than 1500 secondary school students have been directly impacted by the computer lab; over 9000 students impacted altogether, and 20,000 local people have benefitted.  In fact, they see the impact moving widely to the whole of Papua New Guinea, as the students have more skills to serve locally and nationally, building the foundation for more productive lives and better futures.
Reference No. S3742