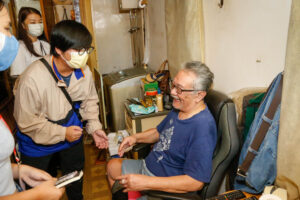 It has been a tough journey for Mr Wong, living a simple life on his own in a quiet Hong Kong village. He was disabled by polio many years ago, leaving him in frequent pain and unable to move around easily. When his village was redeveloped, Mr Wong had to move into a small home with no electricity, cracked walls and very little furniture. He was reliant on volunteers and social workers to help renovate the home to a liveable standard and set it up with electricity.
It's an ongoing difficulty now for Mr Wong to replace broken appliances or furniture. A social worker therefore referred him to Crossroads to help lift the burden he shoulders. In the past, we have helped him with such electrical goods as a washing machine, which has served him well for 8 years.
Despite his challenges, smiles come easily to Mr Wong's face, and when our staff visited him, along with a social worker, he was excited to show hospitality and to say how thankful he was for the care. He pointed out items in his home, such as his microwave, which came from one of our recent consignments. He has even gone so far as to send hand-written thank you notes to charities who have given him assistance.
Mr Wong is just one of the nearly 2,000 individuals in Hong Kong who were referred to Crossroads through NGOs and Social Welfare Departments in 2020-21. What a privilege to walk with people in our own neighbourhood, who are truly living at the grassroots: those who, like Mr Wong, find ways to be thankful and positive despite great hardship.