Microsoft partners with Crossoads: more than just volunteering
It's a nice problem to have. Our phones run hot and our email boxes burst with new messages as Hong Kong people generously offer goods to us each day. The people of Hong Kong love to give.
So, yes, a nice problem to have, but a problem, of sorts, nonetheless. With phone calls numbering 60, 70, or more, every day, it can be hard for even our dedicated team of volunteers to keep up.  They were sometimes overwhelmed. So was the system they were using. It was designed for an earlier time in Crossroads' history. It worked fine, back then, but could not meet today's demand. Nor, from what we could see, would it meet tomorrow's.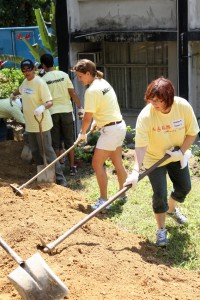 When Microsoft first contacted Crossroads, it was to arrange a day of corporate volunteering and simulations. But after a day serving at our Crossroads' site and experiencing a taste of poverty through the Struggle for Survival simulation, they were inspired to do more than just use their muscles!
Microsoft worked with Crossroads to come up with a partnership that truly used their core strengths, and solved our incoming phone calls dilemma.They donated and hosted a brand new IT system which is far better suited for handling the generosity of Hong Kong's wonderful community.
"The most immediate benefit is that we have more visibility of our donation pipeline so that we will be able to match more donations to more needs and deliver relief faster. That means we will be saying 'no' [to donations] less often!" said Matthew Gow, Crossroads' CTO.
With Microsoft's partnership, it's a joy to be saying 'yes' to more lives changed!
We can help your company engage with development issues
Crossroads has helped hundreds of companies, including some of the world's biggest brand names, find ways they can develop their CSR programmes and serve the poor, through volunteer days, finding NGOs to partner with around the world, taking part in simulations, and much more.
Contact us today at enquiries@crossroads.org.hk to start talking about how we can help!