$230HK ($30US) purchases an emergency relief kit for families from slum communities in lockdown in India.
Each kit includes food, face masks, hygiene supplies and educational materials for children missing out on schooling.
India is in a state of crisis, with thousands of people dying daily from Covid-19.
While some are battling access to life-saving oxygen, thousands of others in poverty who are sick or in quarantine or lockdown are battling the instant loss of income from day labouring jobs. They need urgent help to feed their families and access medicine and other essentials.
"There is immense suffering… we are being flooded with Covid medical and relief intervention requests," said Crossroads' partners on the ground. For nearly a decade, they have been working with hundreds of families in a slum in Maharashtra running programmes in education, job creation and women's empowerment. Now, they're walking with those same families through the current Covid crisis, helping them survive.
You can help. Click the button above to go to our donation page, and in the 'Disaster name' box, enter 'India Covid relief'. We, and those we serve, are deeply grateful for your gift!
Feedback: Emergency kits bringing relief
Thank you to all who've given so generously to help poor families battling India's Covid crisis. Distribution has now begun on emergency aid packs for families from slum communities. Our partners told us of the challenges they're seeing. "As we started the distribution, we were pained to hear the struggles of their Covid journey," they wrote. "Children appeared stiff, scared, listless and lost," said our partners. "Some children had lost both parents. It's been a harrowing time."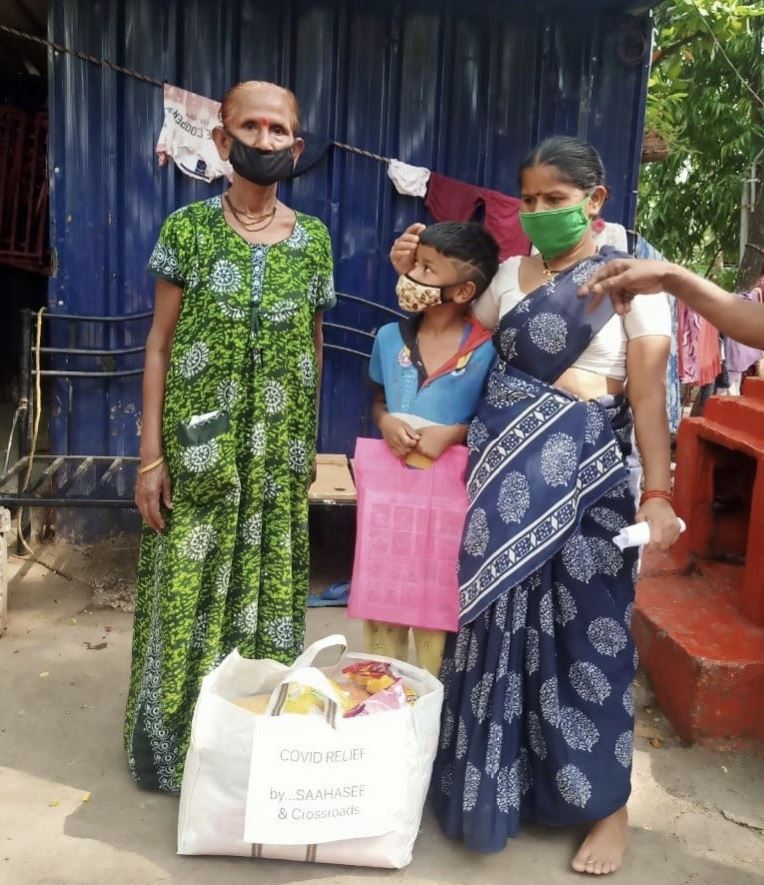 Ramesh, one resident of the slum, said, "My wife and I survived Covid by sheer luck, but how will my family survive without food? I am not strong enough to get back to work." These packs of food and school materials for children missing schooling are a literal lifeline. "The Covid-affected families have been so thankful for the relief provisions as they take a deep sigh, knowing that they will not have to beg for their next meals," wrote our partners. "Crossroads' assistance has eased every single home's agony of anxiety for survival."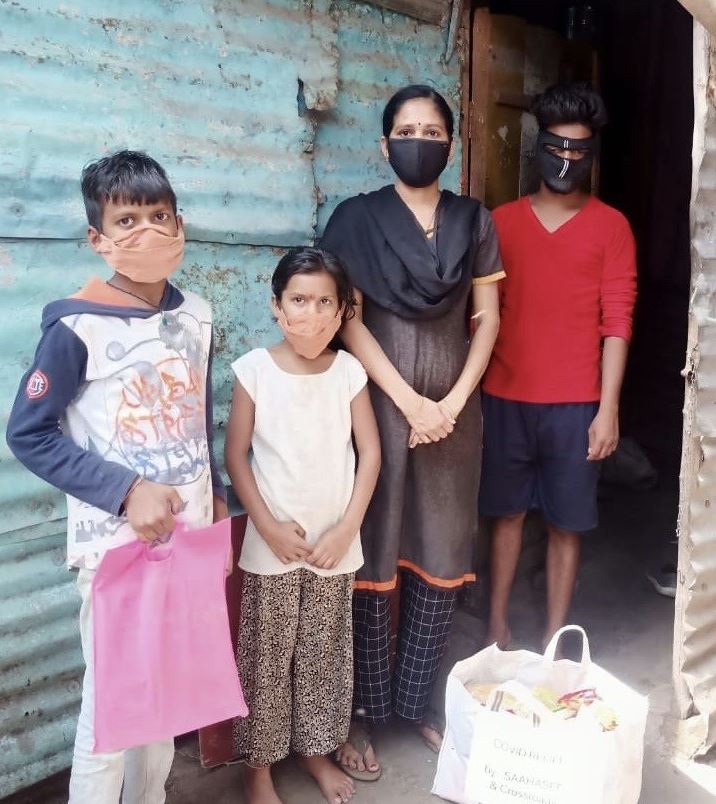 Hundreds of families in this Indian slum have already benefited from emergency packs, which include vital food supplies and educational materials for children who are missing out on school during lockdown. We're still channeling funds to bring continued relief to these and hundreds more families, thanks to the generosity of our donors.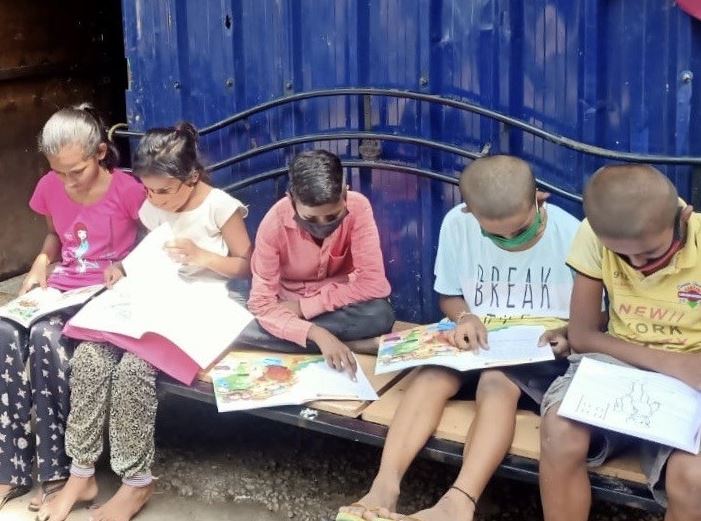 ---
Raziya's story: Widowed by Covid-19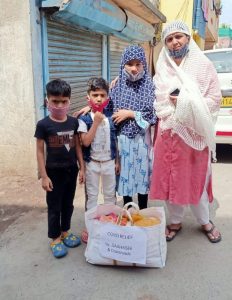 Raziya is 33, with three small children. In April this year, she was widowed by Covid-19. Before India's recent catastrophic Covid wave, Raziya and her family were happy with their little home-run business in a slum in Maharashtra, India, which brought in a small daily income. When her husband fell ill, though, they were terrified. They knew that Covid was spreading, and they also knew how hard it was for those without money to find a bed in hospitals overwhelmed with Covid cases.
Her husband's Covid test came back positive. "With the widespread fear in our slum neighbourhood about Covid-19, I was paralysed with fear," says Raziya. "I came home and contacted my local doctor, who told me as my husband's condition grew worse and worse, to isolate him at home." In their tiny 13 x 10ft slum home, there was simply no way to isolate him, though. "The added fear of Covid infecting me and the children was really a frightful, nightmare experience," she said. So, they decided to try once again to find him a bed in a hospital, but it was a challenge.
"We hired an auto rickshaw and travelled to different hospitals in the city for 8-9 hours. I was running and virtually begging for help from all possible nurses, doctors and even people around me, but every hospital – private or government – was so crowded that getting a bed seemed impossible." Finally, they found a bed.
It was too late, though. Raziya's husband had gone too long without help and he died soon after arriving at the hospital. Raziya struggled to take it in. He was the sole income earner for the family and the main decision maker. Even with family members stepping in to help, she felt lost.
Crossroads has been working with a group in India to channel funds to help people in Raziya's neighbourhood who are quarantining in the slum, and desperate for help. The funds have purchased emergency aid packages of food and children's materials, which have been a literal lifeline for families like hers. Staff have also been listening and caring, offering counselling for people who are traumatised. "Some children have lost both parents," they said. "It's been a harrowing time."
When they met Raziya and her children, they listened to her story and comforted the family, as well as giving them a large food package and materials for the children.  "I don't know how to convey how happy my children were to receive the food gift," she said. "The loss of my husband is acute even now. As I feared for the days ahead, just seeing food in my home gives me space to regain my breath. Seeing my children smiling and happy after a hopelessly horrid month is very comforting."
We're so grateful to generous donors who have made it possible for us to support families like Raziya's in their time of desperate need. Click here to give and write 'India Covid relief' in the box.