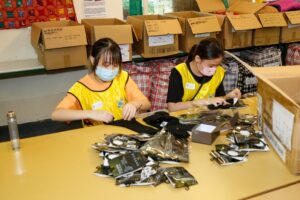 Would your corporation like to volunteer with us? We offer
Unskilled volunteering. Some companies request volunteering opportunities in which their staff participate in general activities such as painting, repairs, cleaning, packing, container-loading etc.
Skilled volunteering. Some companies request volunteering opportunities which draw on their core skills. E.g. engineering, HR, design, medical (equipment checking), translation, IT, etc. In this case, volunteers may serve as a group or make their time available on an individual basis, whether at our venue or in their offices.
To arrange your time with Crossroads, please contact: volunteer@crossroads.org.hk
---
Plus your Day!
If you want to deepen the impact of your volunteering day, top it up with one of the following options:
Experience global issues from the inside – book a simulation:
At Global X-perience you do not watch a video or listen to a presentation about global issues instead we invite you to take a few steps 'in the shoes' of people in need. We offer experiential programmes on conflicts, HIV/AIDS, blindness, hunger, water access, inequality in trade and the complex global range of issues that hold billions in poverty. Over 200,000 people including students, business teams, community groups, families and individuals have already participated in our simulation programme. Book your own experience now!
Double your impact – donate goods:

Would you like to donate goods located in Hong Kong or elsewhere in the world? We take high-quality goods and redistributes them to people in need, locally and internationally. We need a regular supply of all kind of goods. You can refer to our list of "most needed items" or just talk to us directly.
Run a collection drive: You can also organise a "collection drive". The items you collect can be a huge gift to the many families in Hong Kong who are living below the poverty line.

Support fair trade:
Do you want to empower people in poverty by buying their products? Global Handicrafts is offering you an opportunity to 'shop with a purpose' all year round. We are happy to open our shop for special group bookings or even bring our Handicrafts stall to your event.
Donate money:

Become a sustaining donor: Your donations are the engine that allows Crossroads to help others. Become a sustaining donor, hold a fundraiser or make a corporate donation to help us cover our financial needs.
Sponsor a container: We load shipments almost every week to send around the world to support schools, hospitals, clinics, community centers, children's homes, disaster relief efforts and more. Over the years many of the valuable items we have distributed have been donated by companies, including office furniture, medical equipment, computers, stationery, and many other unique products. Read more about "sponsoring a container" or contact us directly.
Fundraise for us: Help us raise funds to help people in need! We would love to hear your ideas, please contact engagement@crossroads.org.hk
Please contact engagement@crossroads.org.hk for further information and individual offers.