Become a Sustaining Donor
The world needs more people who care. More than ever before our world faces unprecedented challenges, requiring new levels of commitment. We rely on financial donations to keep the work of Crossroads alive as we empower locals on the front line. We are looking for change-makers to walk with us and sustain us financially. Together, we can make a difference!
Every HK$ 100 lets us send goods worth HK$ 900 to people in need
As a sustaining donor, an automatic payment will be made each month from your bank or credit card to Crossroads Foundation Ltd. In return for your commitment to keep Crossroads sustainable, we will regularly inform you of our work, invite you to our events and send you a gift.
Your donation helps us impact more than 600,000 lives per year. Thank you!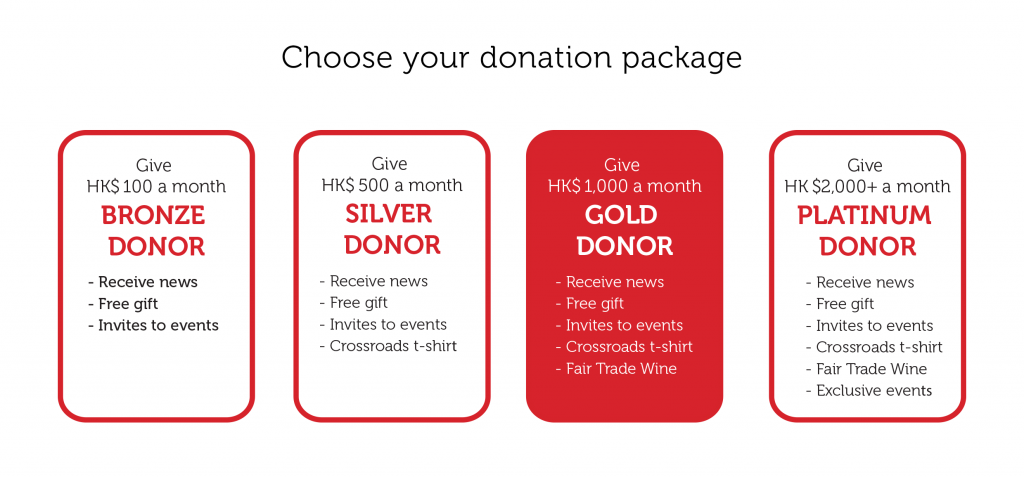 Donations to Crossroads over HK$100 are tax deductible within Hong Kong. Tax deductible options for the United States, United Kingdom and Australia are also available. Please contact us for more information.
You can also give a different amount. Please go to our donation form  and fill in the amount that you would like to donate to Crossroads on a regular basis.
If you have any questions, please email us at enquiries@crossroads.org.hk or call us on +852 2984 9309.