FABBAs helps to transform Ugandan slum school
It might not look like a treasure chest. But the 40 foot shipping container outside the only school in Kamwokya slum is filled with valuables that are changing Ugandan futures, one child at a time. Children in the densely packed, dangerous Kamwokya slum once had nowhere to go to school, while their parents went to work in surrounding neighbourhoods. Now, this school is a beacon of hope, educating 2,000 pupils, not just in academic subjects but in life skills, job training and children's rights.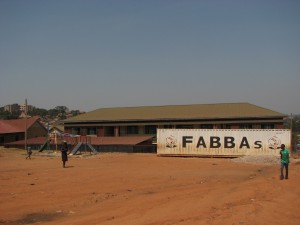 They struggle with very few resources, though. We responded with the shipment sent by Fund Managers, Asian Bankers and Brokers Awards (FABBAs). As a result, the school library in Kamwokya is now filled with text books, the boys' soccer team wears uniforms, the students sit at new desks and chairs, and some of the poorest students, who previously slept on the floor, now have soft new mattresses and warm blankets. All have a new zeal to attend school each day.
It's FABBAs – our largest single donor in 13 years – who made this possible. At their 2013 banquet, FABBAs raised a staggering HK$1.5 million for Crossroads' operations and international shipments.