Supporting Hong Kong households
Every day, we assist Hong Kong people who battle to manage life on limited financial resources. They are referred to us by branches of Hong Kong's Social Welfare Department (SWD) or by Hong Kong NGOs. Here is a close-up look at one of the thousands we help each year.
Ms Choi (name has been changed) represents thousands of people in Hong Kong who manage, as a single parent, in a tight living space. Home for Ms Choi is a tiny 6 x 8′ room with her toddler, in an apartment she shares with three other single mothers. Life is tough, but Ms Choi has an irrepressible smile, despite her circumstances. Raising a growing, energetic toddler in a one-room home was becoming more and more difficult, so Ms Choi came to us to find more space-efficient storage solutions. She also came for a computer to share with her household of mothers,
to assist their daily lives and to help them stay connected to the world. She arrived with toddler in tow and a measuring tape in hand. A couple of hours later, she left with several sets of shelves, measured exactly to fit her home, along with that much wanted desktop computer to serve her whole household of flat-mates!
Two Crossroads' staff travelled back home with Ms Choi to see the goods installed. Her new storage furniture was indeed fit to purpose and their installation replaced a small desk. She graciously offered that desk back to Crossroads – a beautiful example of the kind of sharing and efficiency we love! "Recycling is better than wasting," Ms Choi said, with her ever present smile. "These items are precious resources for those with little money to spare!"
It's our privilege to walk with thousands of individuals and families referred to us by the Social Welfare Department and by NGOs each year. We help with goods that turn bare flats into homes, that invest in their children's educations, and maximise possibilities even for those on the most minimal of incomes.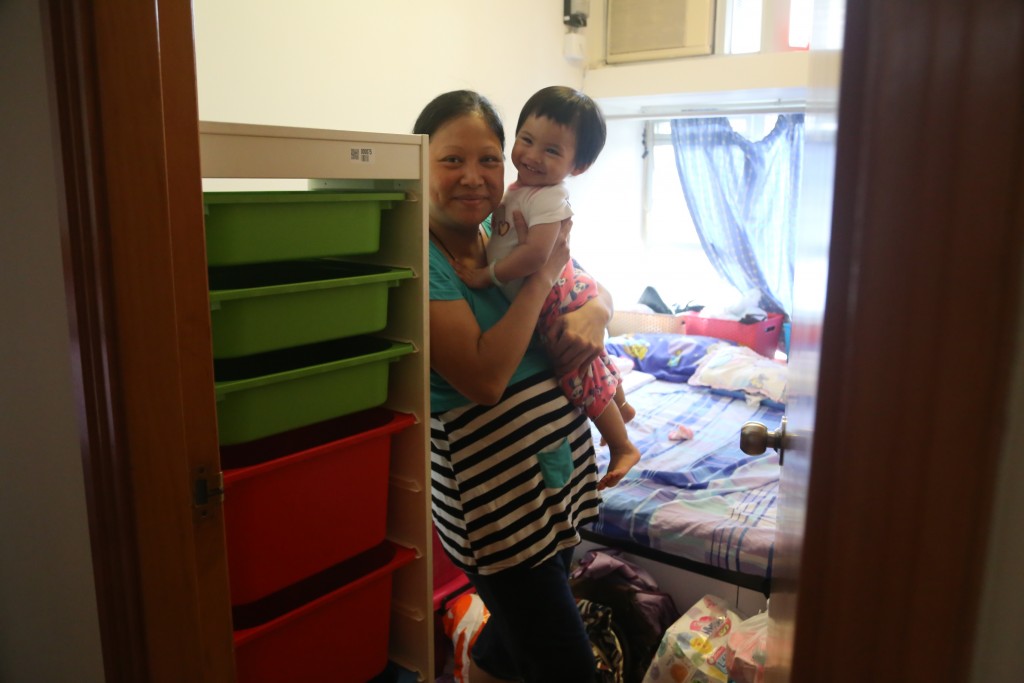 To help those in need is as simple a principle as ABC. I come to Crossroads to volunteer because I live nearby. And I get to communicate with friends from different cultures. That makes me very happy. Both my Chinese and English are very fluent. So I can facilitate the communications between Hong Kong families and the volunteers, so they can get the furniture they need. – Gilbert, volunteer, Hong Kong Distribution
As Hong Kong's people live longer, NGOs like Aged Care Concern (HKACC) are inspirational in their care, meeting both cognitive and emotional need. They offer IT classes where, since many elderly live alone, it's as much about meeting up with friends as it is about learning. "We're constantly seeking new resources to teach them," Eric, from HKACC, says. Crossroads has helped HKACC with furnishings and computers several times, but most recently gave a donation of tablets from Microsoft. Knowing too well the challenges of an NGO budget, Eric deeply appreciates such help. "Not a
lot of charities can do what you do," he said. "You've got thousands of
items. It's a great advantage to us. I think Crossroads is really special."