South Africa: Investing in slum communities
FEEDBACK:
On the outskirts of a notoriously violent South African city, a community group has been working tirelessly to create pathways out of poverty. They run recreational programmes for the local youth and support hospitals and local schools and provide immediate poverty relief to the elderly in need. Crossroads sent a shipment of goods which were strategic in forwarding their goals. The shipment we sent included furniture, stationery, household items, clothing, medical supplies, and other essentials to help empower vulnerable communities. The distribution itself helped gain momentum for government engagement in processing the opening of a new clinic for the community.
"This was an early Christmas to the children that come to the centre, as most of the children have never had toys that they call their own".  NGO recipient
Our partners described just some of the ways the shipment made an impact:
Maternity beds equipped the new maternity ward that was recently opened. The clinic serves a population of 371,001.
Books from the shipment strengthened the libraries and gave students a wider range of books to choose from.
School classes are regularly between 60 and 70 children, but there were rarely enough desks and chairs for all the children to sit comfortably. 3-4 students were often sharing one small desk, making exam times particularly difficult. Furniture from the shipment has now allowed them to have a desk each.
Donated computers are enabling students to learn basic computer skills at school.
New toys and supplies have revitalised an early learning centres, helping to give young children the best start to their education.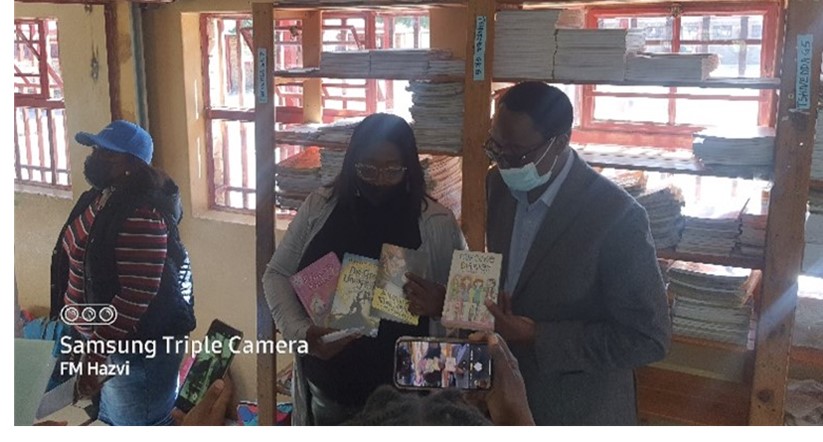 Books were a boost for local schools. "The reading books have uplifted up the libraries and have given students a wide range of themes to read from," said staff.
---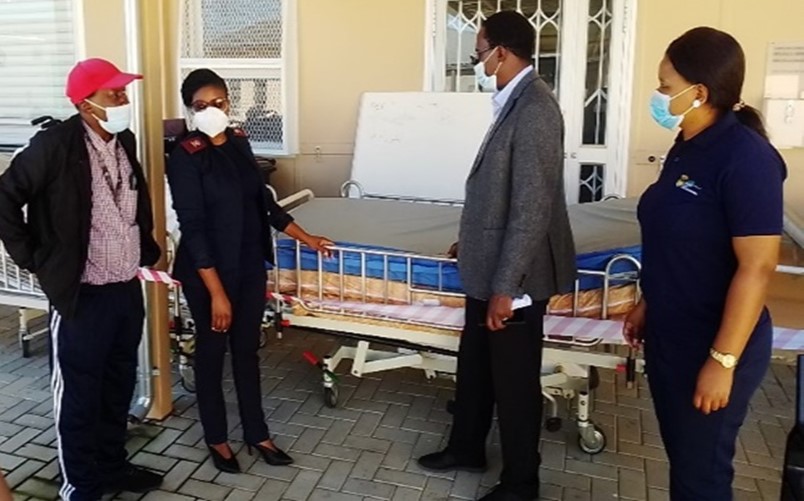 Above: Crossroads' partners allocated medical supplies to a community clinic. We were also able to give hospital beds, wheelchairs, thermometers, and electrical appliances. The goods made a significant difference to the under-resourced hospital.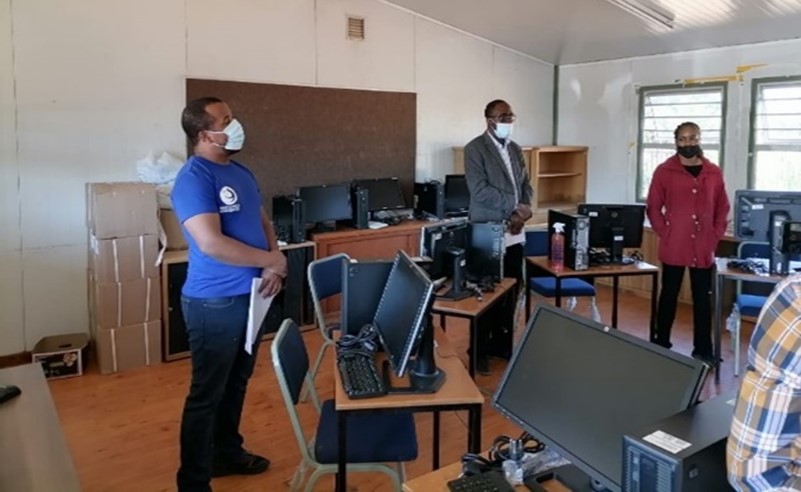 Above: Crossroads' partners gave computers from the shipment to schools in the community. "The computers came during a time when IT is regarded as a key factor for our learners. Our grade 12 needed computers for tertiary and NFSAS applications and as a tool for compiling their CV's," said one principal.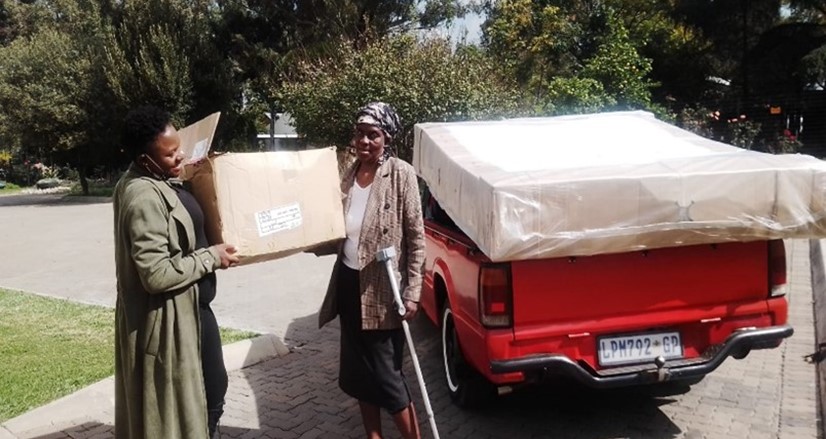 Household furniture (above) and other goods from the shipment have helped a recovering stroke patient who had sold her property in order to cover her medical bills. "This donation meant the world to her," said our partners.
---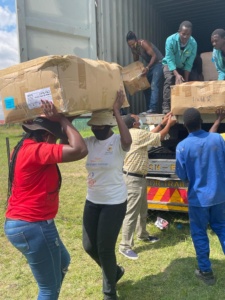 Left: Container being unloaded in South Africa by our partners. "This donation has inspired other organisations to get involved and begin to actively donate," they said.
---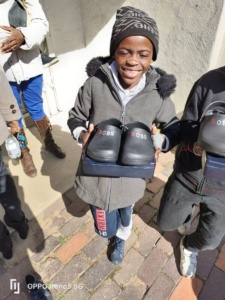 Right: A distribution of shoes from the shipment to primary school children in need.
---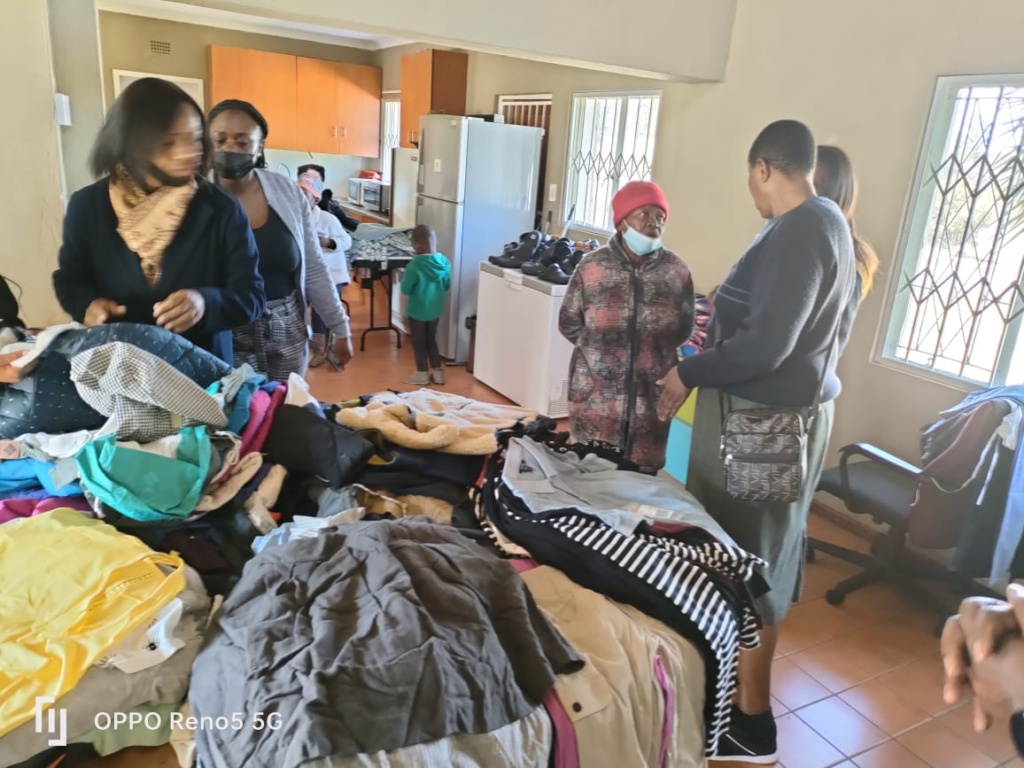 Clothing distribution to individuals in need through a care centre.  The centre provides HIV awareness through peer education, support groups, HIV testing services and home-based care, and caring for orphans and vulnerable Children (OVC). The centre serves around 315 children in the community. They have a drop-in centre where they take care of around 200 affected and/or infected children daily. Donated desks and chairs, new clothing, books and toys have all helped them provide for the OVC under their care.
(S5559)