Sierra Leone: Community development and education
SHIPMENT FEEDBACK
Despite Sierra Leone's civil war ending in the early 2000's, the ripple effects are still felt through under-resourced health care, education and employment opportunities, especially in the rural areas. Our partners on this shipment work with local communities to address poverty through a variety of projects in job training skills, education, child abuse prevention, helping those with disabilities, and women's empowerment. Goods from this shipment helped them not only serve thousands of people with clothing, shoes, school supplies, furniture and medical goods, but to equip their own administration offices, raising their profile significantly in the area and improving the level of service they can provide.
"Honestly, I don't know how to start but thank you for this support. This has given me life once again. I shall forever remain grateful to you all".  Wheelchair recipient
The shipment made an incredible impact on the community. Here are just a few examples:
More than 300 people with disabilities received crutches, wheelchairs, clothing, shoes, bags and other items.   
Nearly 1,000 students received new clothing, helping support with the basic needs that often prevent children from staying in school.
Computers and furniture from Crossroads made it possible to open a new computer and ICT training centre. This centre will welcome people from surrounding communities, and also serves as a research base for students at the various universities. The centre can enrol 2,500 students in a year.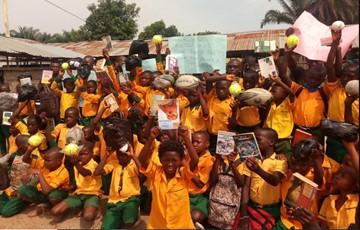 School supplies, books, school furniture, stationery and bags made a significant investment into the lives of children from disadvantaged backgrounds, especially girl students, who are at higher risk of dropping out of school.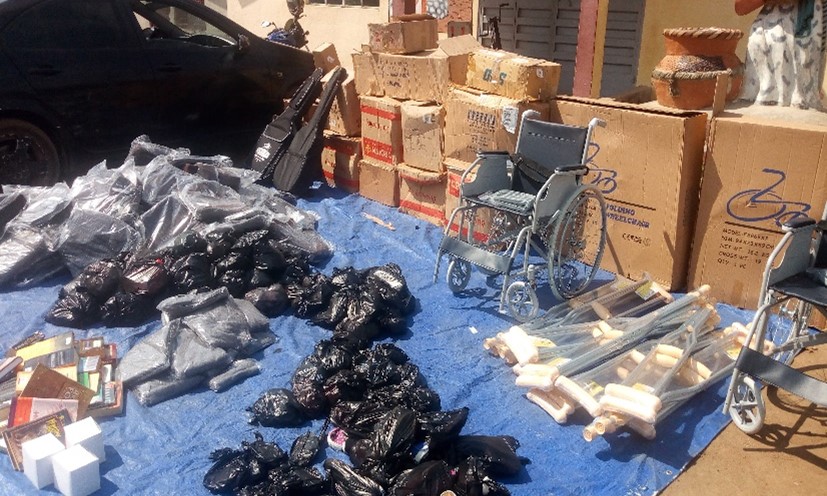 For thousands who were born with disabilities, been injured or lost limbs in the war, it is very difficult to sustain themselves and their families. Medical and hospital equipment from the shipment helped hundreds of people with disabilities.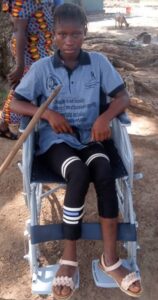 Hawa lives with a disability, and until the shipment from Crossroads, her life was filled with pain. She didn't have a wheelchair, or any other means of getting around with dignity. "Life before this was a nightmare… I used to crawl on the floor in order to access anything that I wanted," she told our partners. "If you see my knees, they are full of bruises, and it hurts a lot. Sometimes, when I would see what others my age could do, and I was not able to do the same, I would cry and cry. I never imagined that one day my situation would change." Thankfully, it did change for Hawa when our partners presented her with a wheelchair from the shipment, allowing her at last to sit up straight and move herself around without pain. "Honestly, I don't know where to start to express my deepest gratitude and appreciation for this support. This has given me life once again, and I shall forever remain grateful to you all," she said.  Crossroads is, likewise, hugely grateful to all who donated and worked towards this shipment to help hundreds of people with disabilities like Hawa find new dignity, strength and independence.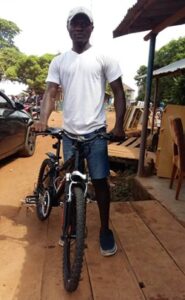 Hassan is an orphan, growing up in challenging circumstances. He walked 6 miles each day to school, and it was growing too much for the teenager. He was on the brink of deciding to quit school and make a life for himself on the streets when Crossroads' partners met him and came alongside with encouragement and practical help. When the shipment arrived, Hassan was handed a bicycle. It was the boost he needed, and he changed his mind about dropping out of school. "When the bicycle was given to Hassan, he kept smiling and saying thank you and a big thank you to Crossroads for giving him such an opportunity," wrote staff.  "He said he would have stopped schooling early because of the situation he was in. He said it was hurting to walk such a long distance barefooted under the sun. Now, walking long distances on a daily basis has finally come to an end."  They also gave Hassan clothing, books and stationery for school and brand-new shoes. "He was ecstatic," said staff. "Onlookers were all celebrating for him because they know his story and what exactly he has been going through before the shipment." There were literally hundreds of children and youth like Hassan who received clothes, shoes, school supplies and other things that have lifted some of the burden poverty has placed on them.    
Staff speak of the impact:
"A huge number of children used to walk to school barefoot, and wear rags as clothing. These were huge barriers in our work, because we could see the needs ourselves but couldn't act, due to a lack of the resources to do so. Now, after the shipment, children don't walk to school barefoot anymore. They have been given clothing and shoes."
"Children in these community schools no longer sit on the floor to write and now they have bags to put all their school materials in to go to school.
"The beneficiaries were super excited about these goods and the impact it has created in their lives."
"This shipment has promoted our organisation to another level. It has given the organisation and its staff a new facelift. We can now feel very proud of having office furniture in our offices, office equipment like a safe, projectors, stationery and so on."
S3525