Nigeria: Poverty relief and development
Poverty relief and development
The combined ravages of conflict, HIV/AIDS, a yellow fever epidemic, increasing concentration of wealth in certain regions and now Covid-19 are exacerbating poverty in Nigeria, affecting those struggling to live on small farms and in city slums.  According to UN statistics, the rates of food insecurity and malnutrition have doubled in the past 2 years.
Crossroads is shipping to a group who had already been working with fringe urban and rural communities when local conditions started deteriorating.  Demands on their programmes in child nutrition & health, disability support & training, gender equity, and enterprise development have increased dramatically during this time.  They have reached out to Crossroads for help in meeting these increasing needs.
This shipment will include clothing and basic household furniture and textiles for meeting immediate needs as well as school and office furniture, tools and machinery for vocational training, computers, electrical appliances and stationery supplies.
Bicycles and tents will be used to enable workers to reach more remote areas, while toys and musical instruments will be used to invest in local children's homes and schools.
---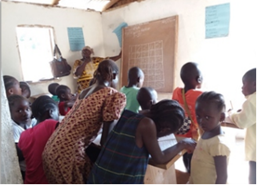 Crossroads' partner group runs free literacy & numeracy classes for young people unable to attend school for economic reasons. They also provide vocational & business skills training for the many unemployed young people in slums and farming communities.
---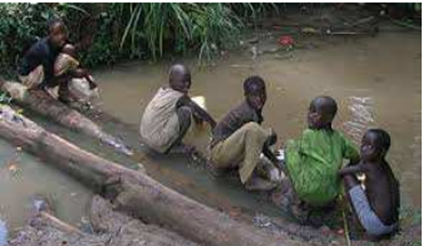 The challenge of clean water access means that many people in rural areas are at constant risk of intestinal troubles and diseases caused by mosquitoes and water-borne parasites.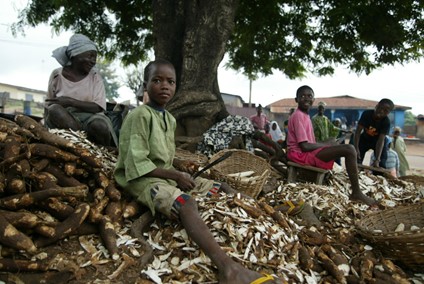 Cassava is a staple food crop in the area where our partners work.  It requires intensive preparation which is done by women and children.
---


Both Mary  and Jane  have similar backgrounds.  They had married in their early teens, quickly become pregnant and been deserted by their husbands when their babies were born.
Far away from their home village support networks and with no experience or training in childcare or nutrition, Mary and Jane's babies did not thrive and the desperate young mothers considered simply abandoning the children.
Volunteer mentors working with our partner were able to come alongside Mary and Jane with the practical and emotional support they needed.
Now the children's health has improved greatly and both mothers are now undergoing vocational and business training that will enable them to continue caring for and supporting the children as they grow up.
This shipment will include goods to support young mothers and their children to help them thrive.
---
(S5512)