Ghana: Education for Change
SHIPMENT FEEDBACK
Offuman is an area in Ghana where poverty has meant that many people were never able to receive a proper education. Local communities have traditionally been dependent on agriculture and there has been little opportunity for people to pursue other goals or talents. Parents are aware of this, and they want to send their children to school so that they can access better opportunities in the future. But poverty remains a problem, and many families are lacking even basic necessities, therefore they cannot afford to do this without support.
Our local NGO partners in Ghana are an educational charity whose goal is to develop the leadership, skills and opportunities for young people to build up their communities. Their target is to help people break the cycle of poverty through education, in the hope that each child who is educated in the community will help others to learn the confidence and skills to build their own road to success. Through their schooling programmes, our partners are trying to create autonomy and community-directed practices that will lead to a sustainable future for many generations to come.
"We received enough boxes of books to build a small library within our technical training college. These books are a fantastic addition to our collection and this will be Offuman's first and only library!" – NGO Director

(Above 1st) The first students enrolled in our partners' new sewing workshop prepare for their classes to begin. (Above 2nd) A local principal and one of his students gratefully receive the donation of computers to their school.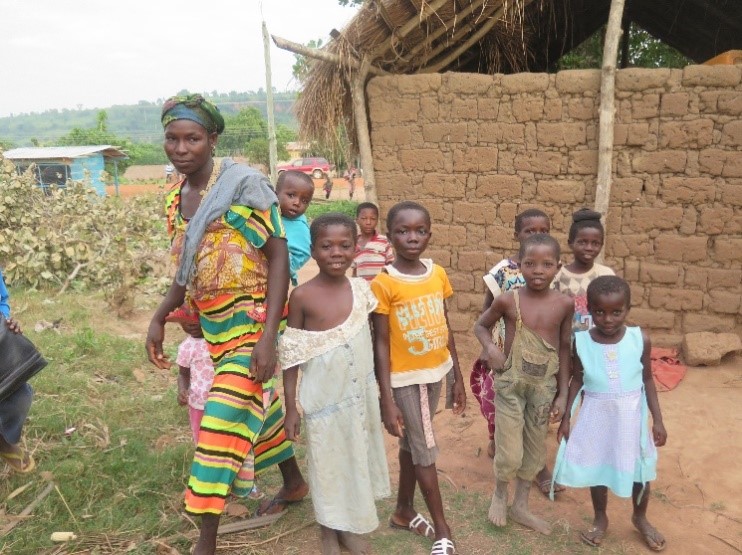 (Above) One of the local families who received a donation of clothes from this shipment gathers outside their home.
The goods that our partners received in this shipment have made a significant impact on their work and have provided a real benefit to local communities in Ghana. Here just a few examples of how they have been put to use:
Clothing has been provided to families in need, and new jackets and professional attire have been donated to the teaching staff in local schools

Stationery and books have been distributed between local primary and secondary schools, improving classroom standards and education quality

Sewing machines have been put to use in our partners' technical college as part of a skills workshop programme

Toys and games have rejuvenated nursery and child care organisations across Offuman

Computers have allowed the introduction of IT classes in local secondary schools
Our partners estimate that this shipment has had a direct beneficial impact on 3000 people in the local community already, and this will only increase as the goods continue to provide a service for years to come.
---
FURTHER IMPACT

(Above 1st) The class leader for the new sewing workshop poses for a photo before her first class. (Above 2nd) New desks and chairs are in place and ready for students at our partners' college. (Above 3rd) School staff benefited from professional clothing from the shipment.

(Above 2nd) Students from a local high school gather to receive goods donated to their classrooms.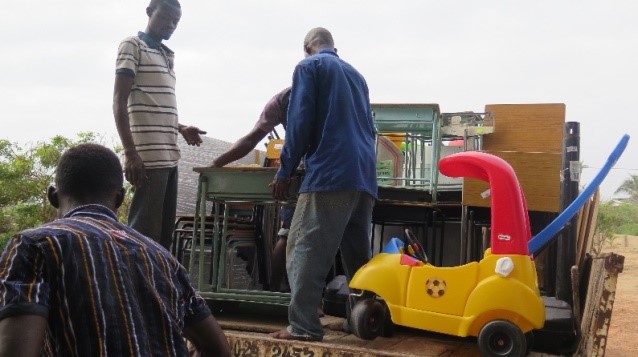 Toys and desks are unloaded upon arrival, ready for distribution.
Reference No. :  S4456