Ghana: Child and maternal health
WHO IS THIS SHIPMENT HELPING?
"The stark reality of poverty affects hundreds and thousands of children here," wrote our partners. They are acutely aware that in their rural communities, life is very tough for vulnerable farming families, who struggle to provide the basics of food, education and healthcare for their children. "Ordinarily, children may own a tattered shirt or undergarment, which might be the only possession they have… The gap between the affluent in the towns and cities, and the rural poor, is great." We were pleased to work with these partners on a shipment to equip their many projects in rural healthcare, maternal health and child development. Goods like clothing, bedding and milk powder from the shipment supported their orphanage that cares for 50-55 children, ranging from a day old to 12 years old. School furniture and equipment also supported more than 75 schools, day-cares and nurseries in their region, reaching many hundreds of students.
"The children, youth and women were deeply impacted by the realisation that someone somewhere far away, who did not know them, was so generous as to commit to helping the poor in such a dynamic and practical way."
NGO staff
A district hospital reaching 250,000 people was delighted to receive a new defibrillator from the shipment, saving them many hundreds of dollars that they had set aside to buy one. A nursing and midwifery training school received nursing and medical supplies to train nurses, midwives and other healthcare providers. Office furniture, printers and electrical goods helped equip and upgrade the NGO's 20 offices, helping them serve more efficiently and professionally, while 50 high quality computers from the shipment have given staff, teachers and nursing school directors access to computers, some for the first time.
"Please tell our friends and donors that we are overwhelmed by their generosity, kindness and love. These items will be used to train quality nurses and care workers, who will in turn impact the lives of millions of people in Ghana." -Nursing school principal
We are hugely grateful to all donors and volunteers who contributed to this shipment. Turn the page for more quotes and stories of impact!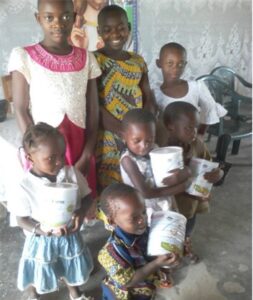 Milk powder from the shipment helped our partners' orphanage save at least US$3,500 that they would otherwise have spent on supplies for the babies in their care.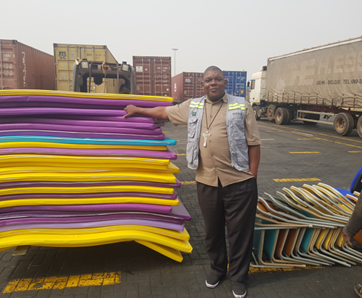 95 mattresses from the shipment were distributed to day cares, schools and nurseries in remote villages. "In some cases the babies had been sleeping on the bare floor, and were bitten by insects and various bugs," wrote staff.  "No doubt, swellings and skin diseases of various kinds will now be minimised."
A first pair of shoes
"In one village 50 miles from the nearest town, hundreds of kids run around with bare feet and scanty clothing," wrote NGO staff. "How excited they were when the pickup truck arrived with clothes which were shared among them according to their sizes and their needs!" Little Kojo, a boy living in this village, had lost both parents, and was being taken care of by a distant relative. This relative had 9 children of her own to feed, and there was never much left for Kojo, who had no shoes at all. He could only weep when for the first time, he was helped into his very own pair of shoes, a gift from the shipment.
Upgrading a maternity hospital
"Our region's maternity hospital was established in 1945 to take care of expectant mothers and infants, and is in dire need of refurbishment. The theatre and most of the facilities are in disrepair. Most baby cots are broken." Crossroads' shipment included baby cots, hospital beds and other supplies that have now been installed at the hospital. The high quality goods have not only given the facility a much-needed facelift, but they've helped them create a more dignified, respectful environment for the vulnerable women and babies in their care.
"Seventy five basic schools have received school supplies including books, pencils and toys. School chairs have been given to schools in remote communities as a way of encouraging education, especially among girls."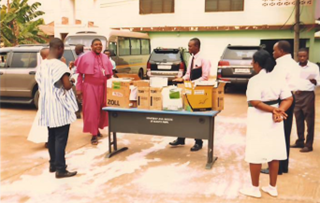 Life-saving hospital equipment. A district hospital that reaches 250,000 people had no access to basic critical medical items such as a defibrillator. Crossroads' shipment included a brand new defibrillator, which was presented to the medical director of the hospital. "We were saving to buy this critical equipment to save the lives of many who were on the verge of dying" said the director, Dr Nyarko. They estimate this item alone saved them about $1,800 from their tight budget.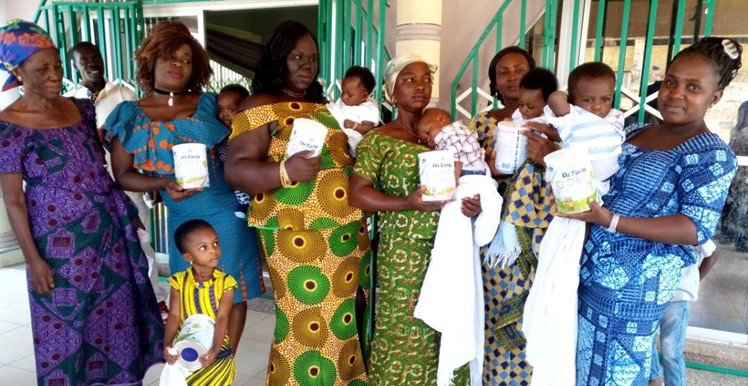 S4586