ACROSS THE ASIA-PACIFIC: Walking in someone else's shoes
At Crossroads, we love the old saying that we should walk a mile 'in the shoes' of people in need. In much of our work, that references developing nations, but a Global Hand match in 2020 reminded us we also may be walking that mile in developed nations : places where poverty and desperation exist alongside great wealth.  
Through long-time partner Soles 4 Souls, Global Hand received an offer of thousands of brand-new shoes made by Crocs: the popular, hard-wearing casual footwear brand. It was an incredible offer, but there was one criterion. The donations had to be distributed in particular countries, including South Korea, Singapore and Australia. 
Our team got to work matching tens of thousands of shoes with partners in the required locations. It's been wonderful, though also sobering, to see feedback flow in, describing the range of need in these places, and the way new shoes have made an impact.  
SOUTH KOREA
NGO partners shared hundreds of pairs of shoes with migrant workers and their children, and refugees seeking safety and a new life.  
SINGAPORE
Nearly 3,000 pairs were given through an NGO that helps survivors of human trafficking and poor migrant workers. "The economic impact and emotional burden [of Covid] has been tremendous," they said. They held a special Christmas event to support migrant workers and their children, where they gave the new shoes as gifts. "They were so delighted when they first saw the shoes. Some of them had never owned covered shoes in their lives…These shoes meant a lot to them," they said. 
AUSTRALIA
Rotary partners were so pleased to be able to spread happiness at the peak of Covid lockdowns, by sharing more than 11,000 pairs of the shoes throughout their network. "Everyone has been feeling low and many of the groups who received the shoes have suffered greatly," they said. "Your donation showed that not only do people care for our planet, but also for people in need." Some of the recipients included a refuge for women and children suffering family violence, together with a home for elderly women. Another hospital said they will be using the shoes to give to children who have to be rescued from very risky situations, sometimes leaving a dangerous home with just the clothes on their back. "This will enable some of our kids to have a spare pair of shoes, or even a replacement pair as they grow out of their current ones. It's gifts like these that make such a difference to the welfare of our most vulnerable kids," they said. 
Wherever these thousands of shoes have stepped, they're bringing life and hope, in the hands of people who care deeply for those in need. We are so thankful for companies who choose to do good with their goods, and for the chance to be a channel to help them do so! 
Our Global Hand website allows us to manage large, multi-part donations like these, including any with special requirements such as location for distribution or other constraints.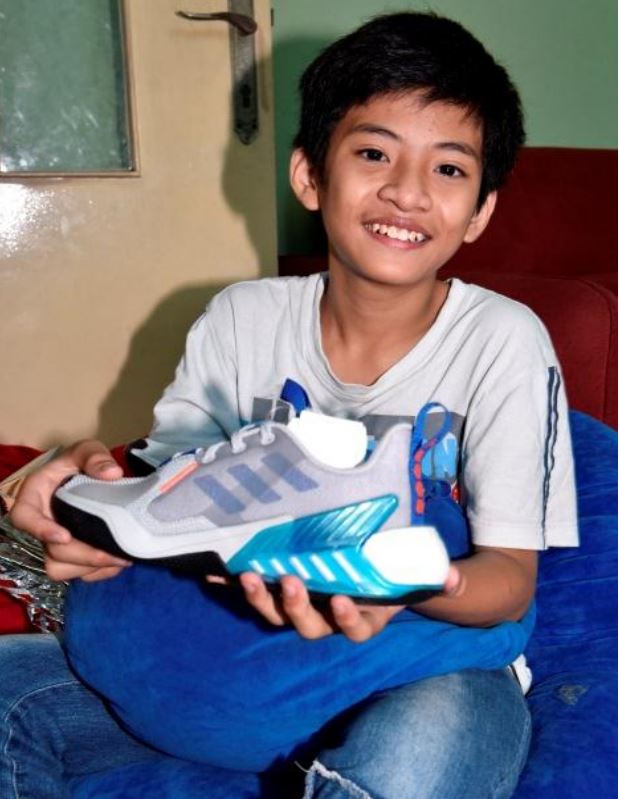 Vietnam: New shoes for Christmas 
Sometimes, the people who need help can be found right on the doorstep of those with resources. All it takes is a connection! In 2020, a footwear factory in Vietnam had more than 80 brand new pairs of branded sports shoes that they couldn't use. Also in Vietnam, Global Hand partner Christina Noble Foundation (CNF) has a network of children's homes for at-risk youth, children with visual impairments and other vulnerable children. Global Hand helped match the shoes with CNF, and they shared them as Christmas presents with the overjoyed children in their care, who were excited to have high quality shoes of their own.