He is a Hong Kong legend. Poverty forced Leung Kee Cheong to drop out of school at 13 and left him with a passion to see quality education given to children in economic need.
Being poor is not a crime, he believes, but refusing to reverse it is. Heis proof of concept. After later qualifying as a teacher, he worked with Hong Kong's Education Department and, in time, was offered the top job at an elite school. Instead, he took the principal role at theFresh Fish Traders' School: one started by the Kowloon Fish Traders Association for their children. It is one of Hong Kong's poorest schools and risked closure until Mr Leung took over.
Today, it thrives, primarily because of its principal and his understanding of his students' needs. "Children love playing, eating and being loved," he says.
He makes all three happen in his school. His education methods are fun, using creative lessons to help children grasp information and stay motivated. He ensures they have enough to eat through a food bank he has opened on site to help both the children and their families. His personal care is boundless. His goal is to know each one by name and to visit their families, where possible, to offer support. The door of his office is always open and, inside, students find toys, snacks and a listening ear.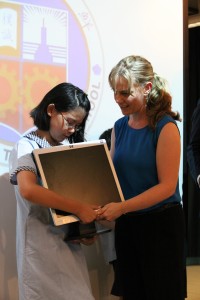 So, when JP Morgan offered Crossroads computers, we immediately thought of this school. Wonderfully, the finance company added to their donation the money needed for computer refurbishment and the volunteer labour to undertake it. We gave both desktops and laptops to the school, glad to support Leung Kee Cheong in his mission to help create leaders for Hong Kong's next generation.