Shopping at the fair: Meet our vendors!

A New Toy
A New Toy was founded in 2017 as a social enterprise and registered in 2022. Their vision is 'Creativity from Toys'. A New Toy encourages the sharing of toys as well as kids making their own toys to express creativity, engaging brains and hands together in the process! A New Toy's own brand DIY KITs include making robots, buzz wire games, basketball games, coin pushers, soccer games, 'happy toothy' games and more. Kids collect their own materials (eg. water bottles, empty tissue rolls, fruit polythene wraps etc), and assemble the toys with instructions from the kits, and also make 'a new toy' from cardboard. Their kits teach kids to treasure usable/recycled materials.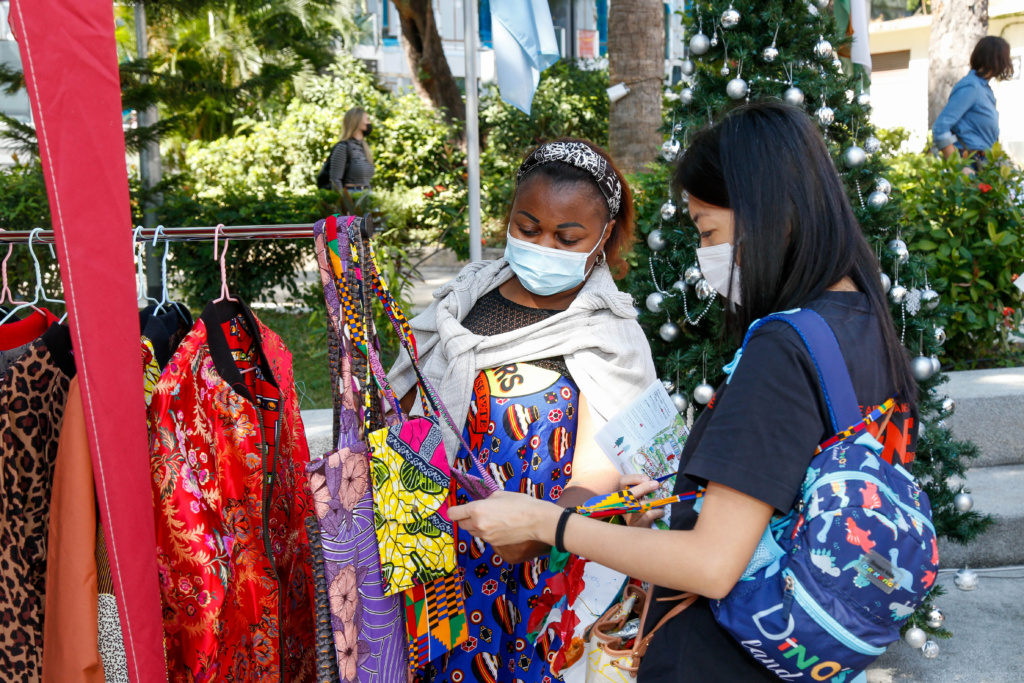 ArtwomenHK
ArtwomenHK ASBL is a registered charity from the Democratic Republic of Congo. They work to promote and protect survivors of sexual violence, street children, orphans, widows, single mothers and refugees. The organisation also promotes the vocational education and literacy of vulnerable women and children to develop sustainable pathways for their futures. You can find A.W.ASBL's handmade products, using beautiful African prints and styles, at the Good Gift Fair.

Bahini
Bahini has been empowering survivors of sex-trafficking with independence and freedom since 2018. Through Fair Trade certified partners, Bahini employs adult survivors who are taught how to create handicraft renown from their own culture. With a Scandinavian design and a sustainable approach Bahini produces bamboo scarves and ayurvedic soap bars that are vegan, plastic free and made of natural materials. The profit from their sales goes towards educational scholarships for young survivors and girls at risk.
Bliss & Bless
Bliss & Bless selects the best products for kids from across the globe for Hong Kong families. In the last decade, they've risen to prominence as sole agent for several international baby care brands, empowering them to serve families. 
Chopsticks/Lively Life
The backstory of Lively Life represents a way for Chinese values to infuse every bit of life and every bite of life! They seek to promote healthy and fair consumption by providing quality organic food and knowledge. Lively Life incorporates Fair Trade elements in their products as a way to be a voice for producers in need. 

Crossroads' Global Handicrafts
Our Global Handicrafts shop at Crossroads Village, is an enchanting, multicultural marketplace of items from Hong Kong and around the world. They are purchased on a fair trade basis that sees a fair income go to artisans and producers who are living in economic need. Don't miss our special range of fair trade Christmas goods, from ornaments to Christmas stockings to nativity sets from around the world!
Desi Groceries
Desi Groceries is a Hong Kong-based online retailer of Indian food who introduces works of Indian producers to Hong Kong along with many top Indian brands. They boast a wide assortment of over 900+ products that shall provide you with the most complete Indian shopping experience in town. 
FairTaste
FAIRTASTE is the first Fair Trade brand in Hong Kong, a social enterprise devoted to promoting Fair Trade and ethical consumption, trusting that everyone can contribute to a sustainable future by buying, serving and gifting Fair Trade products. 
Fair Circle
FAIR CIRCLE is a member of the World Fair Trade Organisation (WFTO), aiming to advocate the Fair Trade movement to flip the current societal injustice through trade and companion as producer communities continue to develop. 

Groundworks
GroundWorks is a social enterprise under an NGO, St James' Settlement. We advocate Community Support Agriculture (CSA), devote ourselves to promoting healthy food, create decent job opportunities to empower women and the elderly, and in turn practice community production.

JOL Cacao
JOL Cacao is a local Bean to Bar chocolate shop. Currently they buy cacao beans from a Tanzania Cooperative, to make sure the cacao farmers get reasonable pay. JOL means Joy of Life – they hope chocolate can give everyone happiness!
Paper-Roses Designs
Paper-Roses is a Hong Kong-based illustration and design house with a stunning range of greeting cards, stationery and gifts. They work with local printers and manufacturers, using eco-conscious materials.

ReBooked
ReBooked is a non-profit social enterprise. Their goal is simple: to promote sustainability in literacy by providing a convenient and accessible platform for books to be reused and enjoyed by other young readers. ReBooked specialises in English secondhand books for children aged 0 to 16 years old, and they provide a wide selection of great quality and affordable books. Launched in August 2019, ReBooked has both an online bookstore (www.rebooked-hk.com) as well as a bookshop in Central. In 3 years, ReBooked has collected over 150,000 books and saved them from going straight to one of Hong Kong's landfills. Today, ReBooked is Hong Kong's biggest sustainable kids' bookstore.
Soaper Delights
Soaper Delights raises awareness of greener and fairer living by bringing sustainability into all that they do, from the sourcing of ethical, quality raw materials, to their local cooperative partners, to their eco-friendly packaging. Stuff that all of us and the earth can feel great about!

The BLOMSTRE
The BLOMSTRE is a passion project by a wife and husband pair and offers a modern selection of lovingly hand-crafted and hand-poured soy wax candles, and other home fragrances. Elevate your mood and serenade your senses with beautiful notes, unique blends, and stories behind each fragrance as scents, emotions, and memories intertwined. Products are handmade in small batches using non-toxic, natural, and organic ingredients from their home studio in Hong Kong. No parabens, no phthalates, no petroleum by-products, no nasties, no animal testing. The BLOMSTRE: Home-Style Artisans
You can make your own hand sanitiser at the Good Gift Fair, with The Blomstre's Scented Hand Sanitiser Bar Station. Made in Hong Kong, it's a pick 'n' mix style station where you can add your own scents to hand sanitiser. The spray bottles used are anti-bacterial, aluminium and reuseable. All made with clean, safe, natural ingredients, never tested on animals.

The Federation of Vegetable Marketing Cooperative Societies
Shop for fresh, delicious vegetables from local farms through the Federation of Vegetable Marketing Cooperative Societies. Look for their stall at the Good Gift Fair!

Venture Photography
Free photo shoots with your family and friends! Venture Photography is generously offering a free photo shoot at their booth at the Good Gift Fair. Venture brings a whole new dimension to studio portrait photography called lifestyle photography. It aims to tell your story by candidly capturing magical moments between you and your loved one, reflecting real character and personality in portraits you will cherish for a lifetime. As well as on the spot free shoots at the fair, Venture will have a special offer for purchase at their booth: vouchers for a studio experience at just $400 (original value HK$2,500), with proceeds going to Crossroads.
WE.Shalom
WE.Shalom connects wholesome health and wellbeing of small farmers as their mission by fair trade means, allowing consumers to fulfill their social responsibilities by providing fair income to improve producers' quality of life. 
Welspring
Welspring is a Hong Kong quality lifestyle platform that offers organic, fair trade, and healthy lifestyle products. They are a "Quality Organic Retailer" by the Hong Kong Organic Resource Centre of Hong Kong Baptist University and represents Fair For Life-certified Dr. Bronner's Magic Soap in Hong Kong.